On Sunday after we packed up we returned to Matt's Bar for a Jucy Lucy. The Jucy Lucy is two patties sealed together with a slice of American cheese inside. And those of you who know me know that I cannot stand American cheese, but I wasn't about to let that stop me from this opportunity.
The burger was served with instructions from the waitress: "Wait 2 to 3 minutes for it to cool, then tip it perpendicular to the table and take small bites from the leading edge down, being careful not to squeeze." This was a damn fine greaseburger and well worth the stop.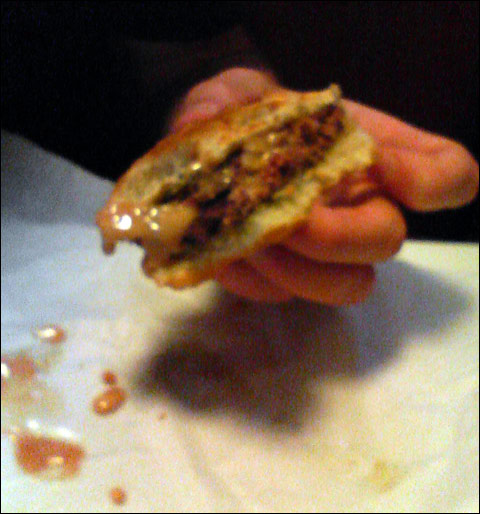 Next stop was the Mall of America, which was absolutely packed so we just did one token lap around level 3 and then hit the road.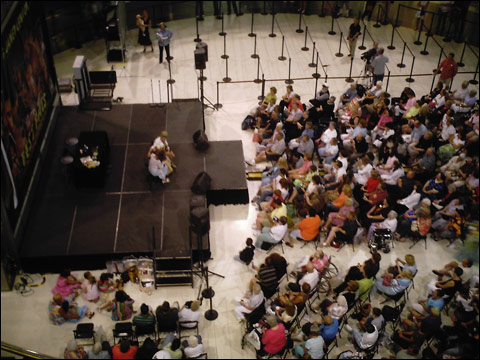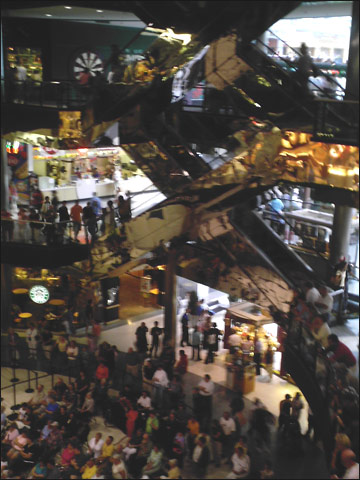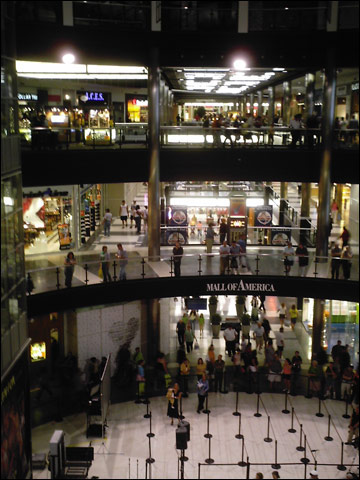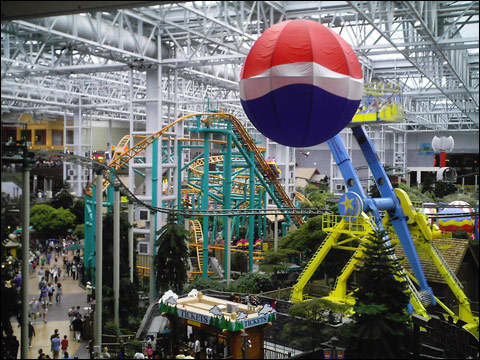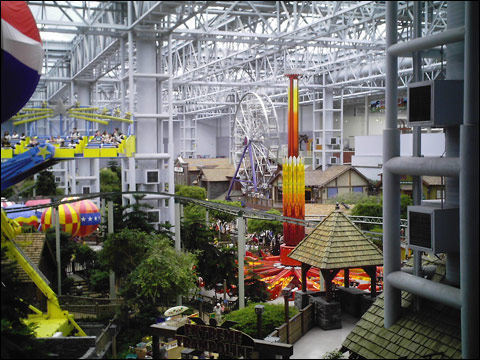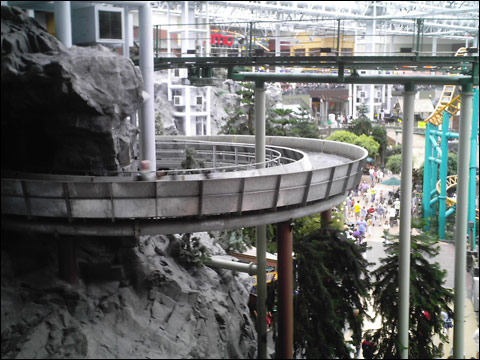 Somehow we missed our exit and so it took us what seemed like forever to get re-connected to I-35 and get out of the city. We began heading south on a rather rainy day.
---
Millersburg, MN
3:20pm
#75 Boonie's Beef and Brew [map]
Brandon: Bud Light
Scott: Bud Light
We were flying down 35 when Brandon's eye caught a tiny highway sign for a place called Boonie's so veered off at the exit to check it out. The town was about a mile down the road and then we found our place. It was a pretty nice place. In addition to the bar and restaurant they apparently had meat for sale was a saw a rather nice large cut sitting next to the register when we walked in. Bingo was being played. Our server talked us into trying some sirloin beef tips (called "Bull Bites") and we're glad she did because they were really, really good.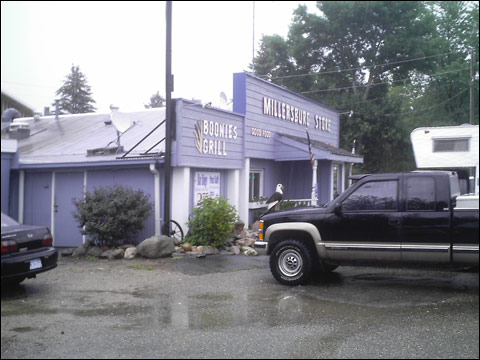 Clear Lake, IA
Further down the road we returned to Clear Lake, IA in hopes of returning to the Surf Ballroom to get something from its gift shop, but it was closed. We headed back down Main Street hoping to find something else open to buy souvenirs but no luck. But there were a few places open, so we decided to stop for a bite to eat.
Azzolini's Hole In The Wall
This was a tiny little pizza place that we had checked out back on Thursday but didn't go in. We wanted individuals slices and luckily they had two left. Brandon asked for pepperoni, I asked for sausage. We took a seat. Several minutes our slices were brought out to us. "This one is sausage," she said as she handed me my slice, "and this one is pepperoni" she said as she handed Brandon his. She must have been trying to implant hypnotic suggestions and failed, because neither of us ever found any meat whatsoever on our slices.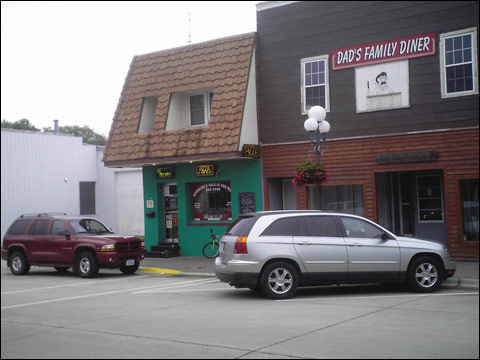 Mason City, IA
After we ate our Pizza we returned to Mason City to see what the downtown area looks like in daylight and also to see this bank hat was robbed by Dillinger: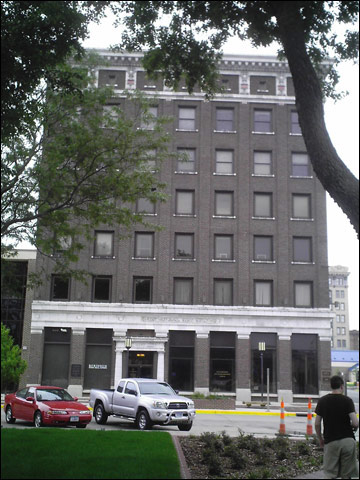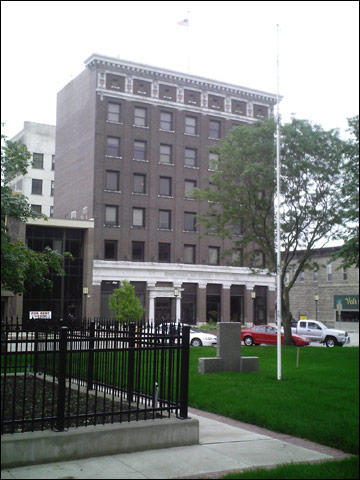 ...and this hotel designed by Frank Lloyd Wright (currently undergoing restoration):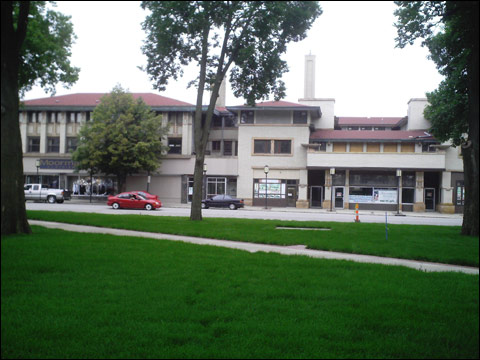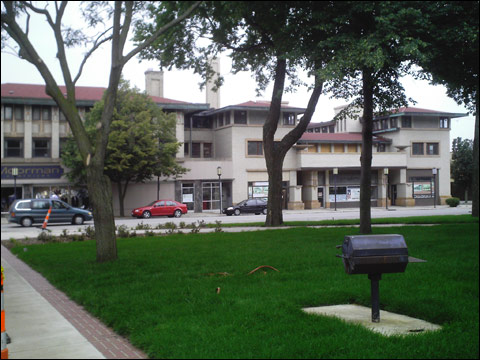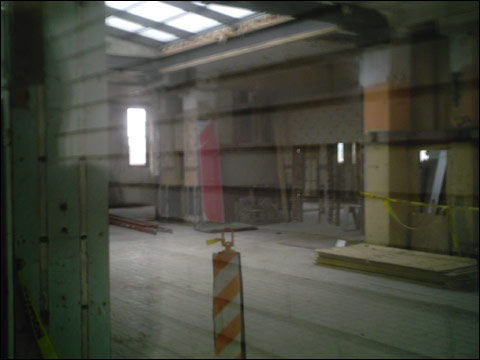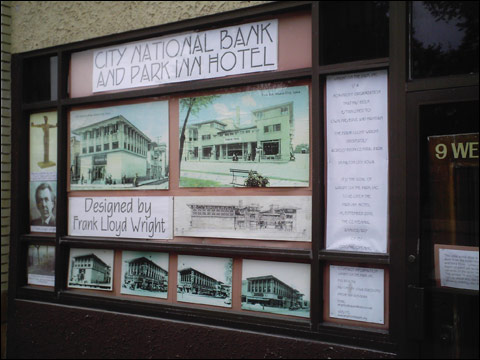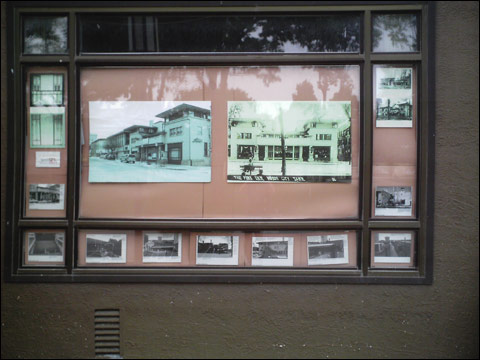 Various pictures from downtown and from a park in the square with war memorials going pratically back to the Peloponnesian War...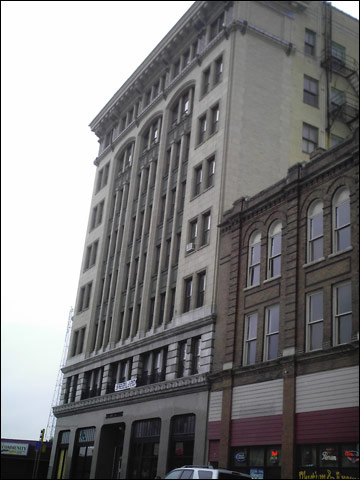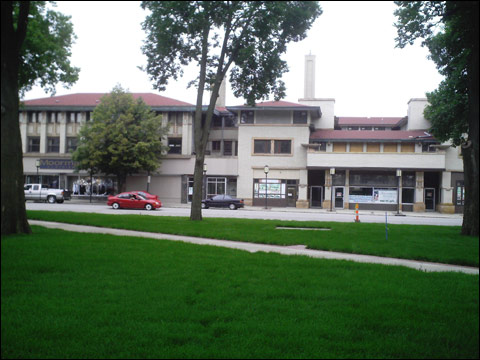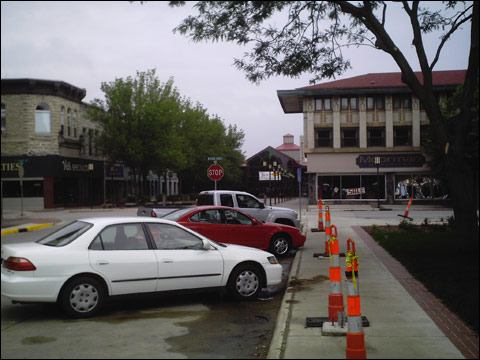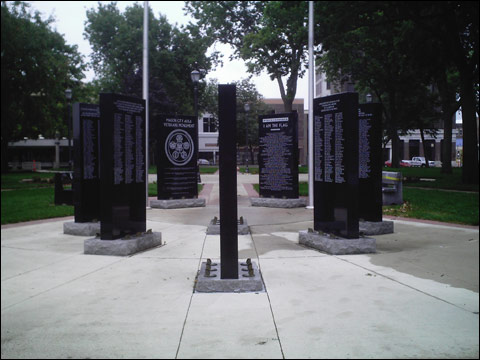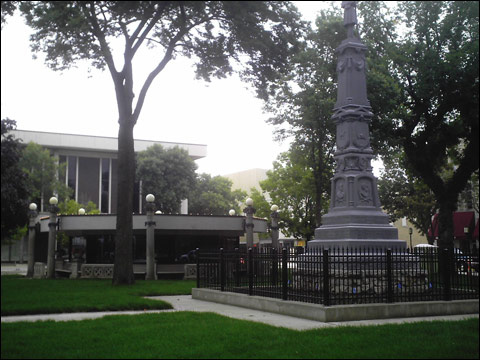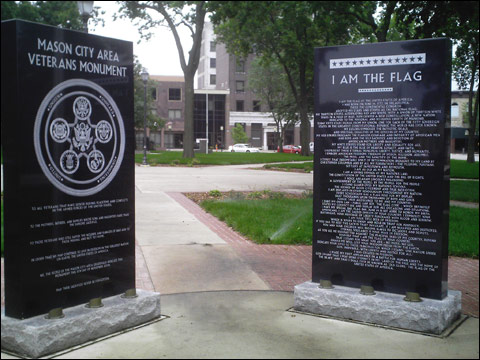 We hit the highway again, until eventually we had to pull off and use a rest area. The rest area was at the same exit as the exit for a town called Dows, which had originally been on our list only because it had a bar there called Scooter's. But we later learned it had closed so scratched it off the list. But now, since we were at the exit anyway, we decided to go take a look.
---
Dows, IA
The road leading into town was lined with Burma Shave style signs hyping the town's information center. The signs went on and on and on. Finally we found the town, a railroad town that was quiet to the point of being creepy. The much hyped information center was inside a restored train depot and was closed. But we did find one thing that was open...
7:05pm
#76 The River Bar [map]
Brandon: Miller Lite
Scott: Miller Lite
This was another unexpectedly nice place. One thing we had noticed throughout the trip was that we never came across anyplace with karaoke. But they had it here, in a back room. We debated joining in but it was already after 7:00 and we hadn't even hit Des Moines yet. So we finished our final beer and then hit the road.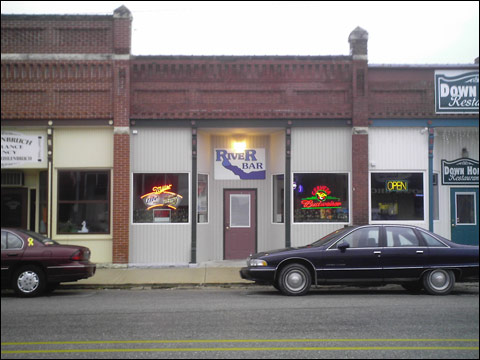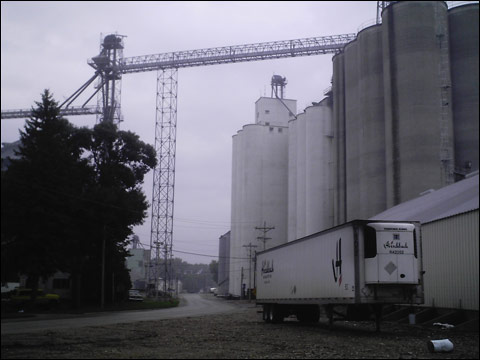 As we neared Des Moines the clouds parted long enough for us to see the sunset of our journey. A couple hours later we were back in Missouri dodging lightning bolts from a nasty storm. We arrived in KC right around midnight, with plenty of memories -- and missing memories -- of a great time.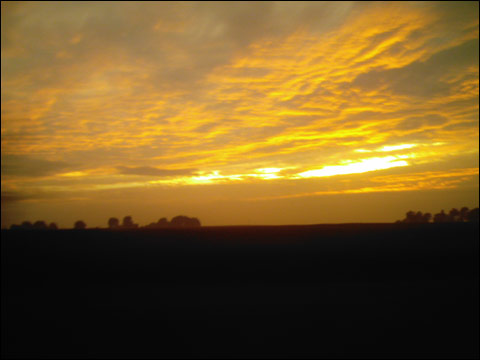 We've already started brainstorming ideas for our next bar run. :)
<-- Day 4 ... Day 5, Bars 75-76 ... Final Tally -->

Main