The next day we were reeling from the high prices for beer in the Warehouse District we set out for the cheap beer rumored to exist in the Northeast neighborhood. After several wrong turns we finally got off in the right direction and as we were heading for our first target bar (Psycho Suzi's) we found an unexpected small cluster of bars.
The first place we tried, Johnny A's, was not open yet. But the rest of the bars here were.

We passed the Grain Belt brewery and arrived at the place Gary and Laura told us we should go to for lunch...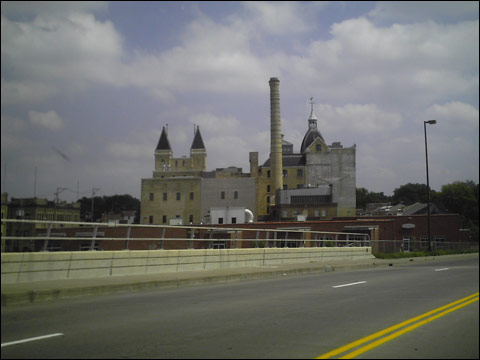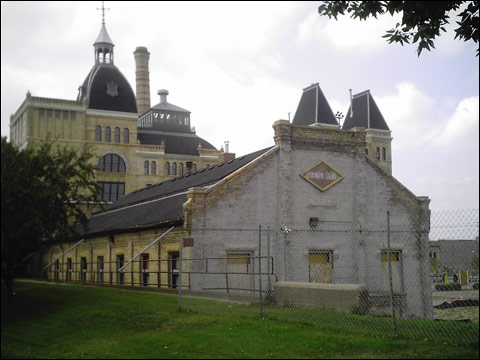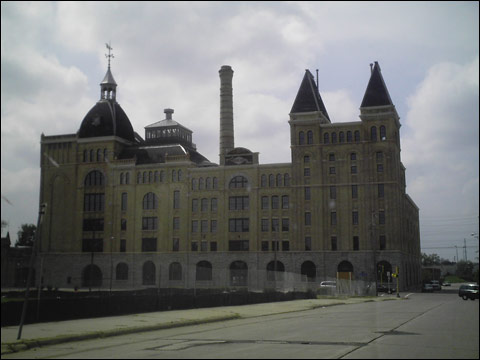 1:04pm
#62 Dusty's Bar [map]
Brandon: Bud
Scott: Grain Belt Premium
The bar was pretty busy so we sat at a table and the smell of Dago Burgers was mouthwatering. The Dago Burger is made from Italian Sausage and topped with Mozzarella. As an ATM was noisily installed nearby we played pull tabs (and lost) while waiting for our food. And it was well worth the wait. Dago Burgers are INCREDIBLE! Thank you Gary and Laura!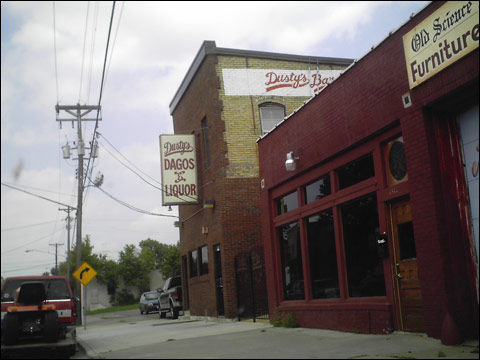 1:50pm
#63 Psycho Suzi's [map]
Brandon: PBR
Scott: Newcastle
We arrived just as 200+ scooters started pulling in for a scooter party. We dashed inside to get our drinks before the bar would be overwhelmed. As we stepped inside we heard the bartender tell a server "Remember, they are not mopeds, they are scooters." The bartender gave us the strictest ID check we had ever experienced, and Scott's KS ID was extremely scrutinized. Only 1 drink at a time would be served per ID. The decor was very tikki - an island theme with bamboo and lots of Polynesian style sculptures and statues. The floor was covered with wood floor print carpeting.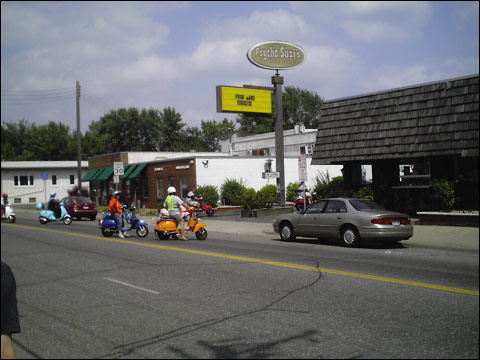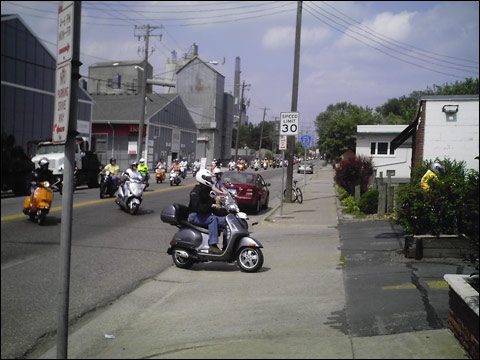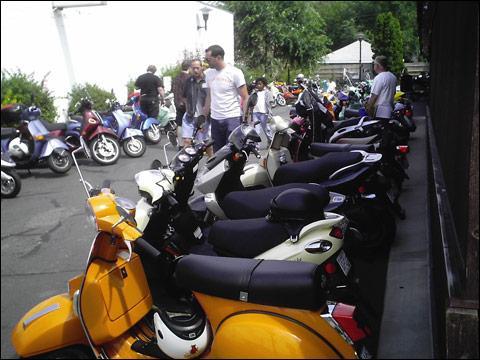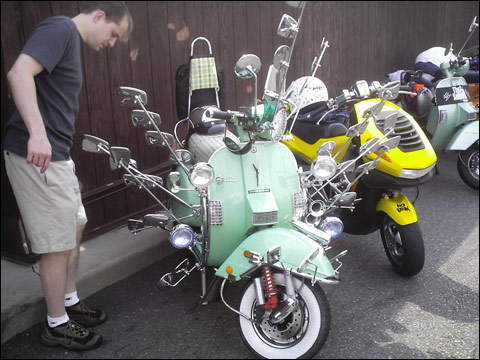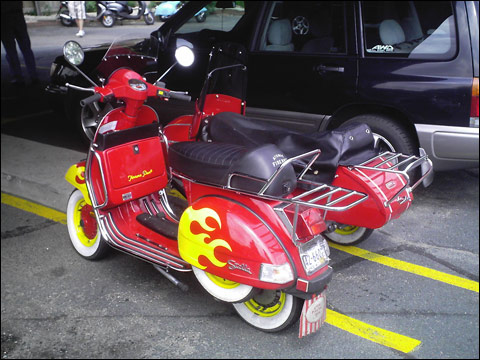 2:27pm
#64 Tony Jaro's River Garden [map]
Brandon: Iron Range Amber Lager
Scott: Iron Range Amber Lager
This was a rectangular bar with a sticky floor. We selected this beer because we liked the anvil on the tap. The bartender seemed unusually grateful for our tip. The restroom had an even tinier trough than the small one we had seen yesterday and sported a sign on the soap dispenser that read "All Employees Must Wash Genitals". Just before we left one of the customers wanted to watch ESPN but nobody knew what channel ESPN was on. "This must be a gay bar," quipped Brandon.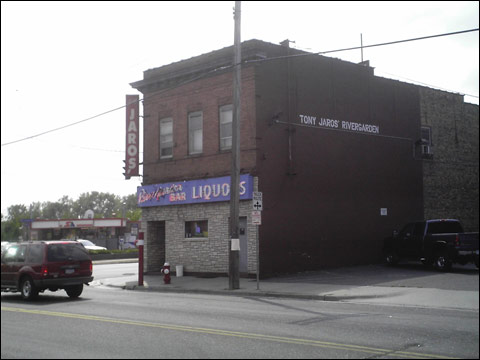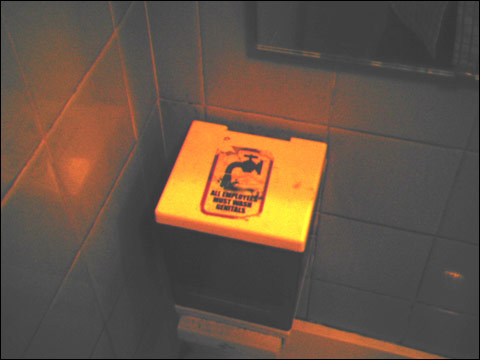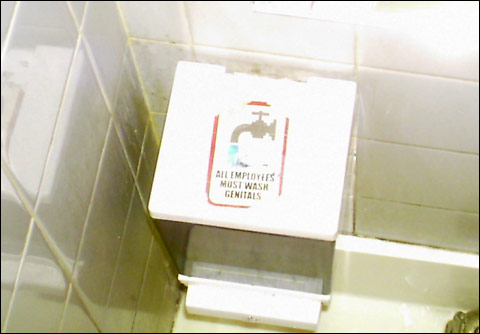 2:55pm
#65 Sully's [map]
Brandon: Bud
Scott: Icehouse
We had planned well in advance to come here after our early research had identified this as the crappiest bar in Minneapolis. It really wasn't that bad. The bar was rectangular and the room had a faint funky smell that should normally be masked by smoke but Minneapolis is smoke-free. We played Silver Strike bowling and after Brandon accidently selected a woman as his character he made sure I played as a woman too. I lost the first game but then Brandon revealed the secret to picking up spares and went down in defeat for the next two games. While we were playing a drunk guy was trying to use the juke box next to us and asked Brandon for help. Brandon helped him make various selections, such as "Still Loving You" by the Scorpions. But before long he became tired of Brandon's help and shoved his arm aside.
As we left a pair of drug dealers tried to give us a really good deal on some Vicodin so I took their picture.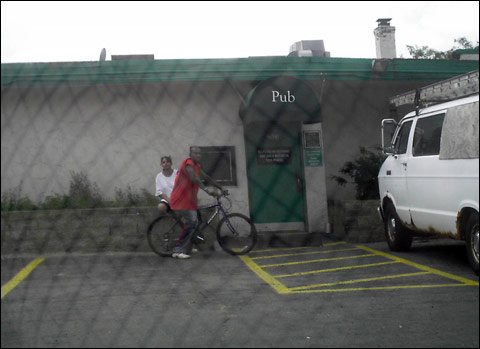 3:55pm
Exploring the neighborhood we stepped into a pool hall called Fat Boy Billiards only to find that it was a dry establishment.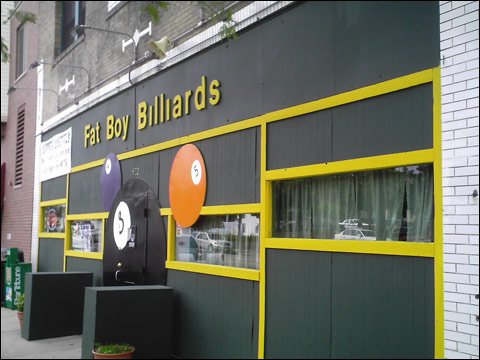 4:00pm
#66 N.E. Palace [map]
Brandon: Bud Light
Scott: Bud Light
I forgot to write down the beer we drank so am going off my memory of the flavor. This place used to be called "First Chance, Last Chance" because it was the first chance for a drink if you were coming in to town and the last chance for a drink while leaving town. We were left alone for half an hour while the bartender stayed out on the patio (which featured a waterfall). We played several games of shuffleboard and attempted to play some pool but in our semi-stupor we could not get any balls to sink, so we gave that up. A drunk woman tried to dance with us and then later when we went to see the patio a guy out there told us a few choice things about that woman. Clearly they had been fighting. :)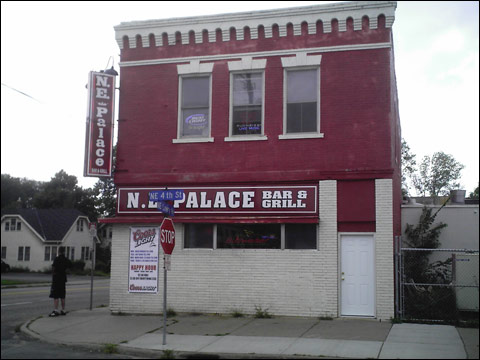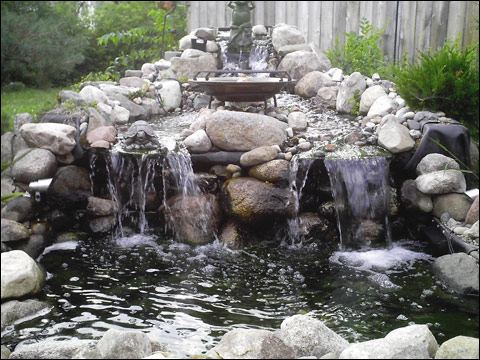 5:08pm
#67 Stasiu's [map]
Brandon: Bud Light
Scott: Michelob Golden Light
Home of the Duzy Sandwich. We did not get a Duzy Sandwich. We did use a very cool looking antique urinal. After spending a few minutes at the bar we adjourned to the game room to play some foosball.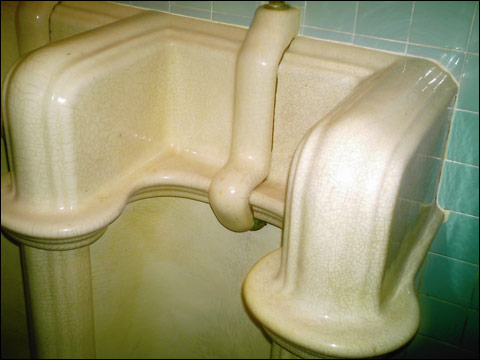 We then decided to return to the same neighborhood where our day began, in order to see how much the character of the neighborhood changed throughout the day as Gary and Laura mentioned it would.
6:02pm
#68 Johnny A's [map]
Brandon: Bud Light
Scott: Bud Light
They were definitely right. In the morning Gary was almost the only black person we saw in this neighborhood Now we were the only white people anywhere in sight. As we approached the rear entrance of Johnny A's a guy tossed a crumpled napkin out of his car window. As we walked by Brandon pointed to the "No Littering" sign in front of him and said "Hey! The sign says 'No Littering'!" "What the f%@$ did you say?" said the stunned driver. "I'm just messin' with ya, man," said Brandon and the two exchanged a laugh.
Johnny A's was packed but we managed to get a couple of seats at the bar. Just like outside, we were the only whites in the place. Our bartender was pretty cool but we didn't catch his name. After a while we walked over to watch some people play Silver Strike Bowling.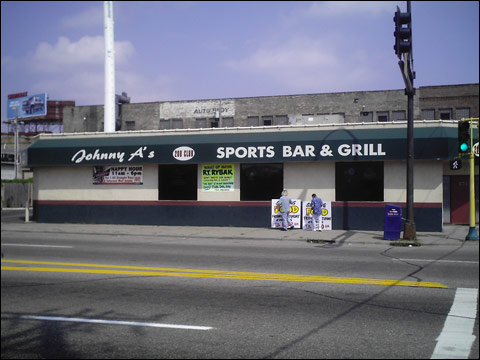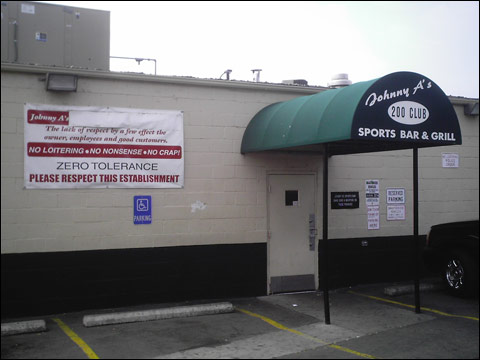 6:21pm
We walked across the street to B.J.'s, a bar featuring strippers. We walked up to the bar but after a minute without service we realized we were out of cash. They had an ATM on site but the fees would have been outrageous so we decided to forgo it. So this bar didn't count.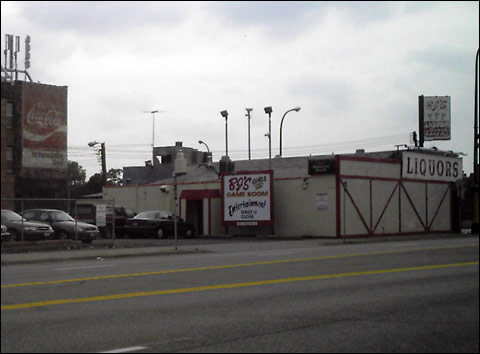 As we were sitting in front of Johnny A's taking pictures I heard a woman say "Excuse me!". I turned to look to find 7 angry people next to us. "Why did you just take a picture of my license plate?!?" Uhhh... uh.... "I didn't," I said, "We were taking a pictures of B.J.'s and Irv's". "No, I saw you, and you BOTH had cameras, you had them pointed straight ahead. "Only to see what we had taken pictures of. I swear, we were not taking pictures of license plates." "Come on," they said, "what in the world would you be taking pictures of bars for?" "We're on a road trip," I said, "and taking pictures of every bar we go to." They apparently accepted this answer because they walked away. Brandon was pretty ticked about being singled out and scrutinized but I pointed out that they probably experience that every day.
6:40pm
#69 The 1029 Bar [map]
Brandon: Bud
Scott: Bud
(I forgot to write down the beers so am guessing.) Originally a sports bar, local police started hanging out so the theme switched to a police bar. Now police from all over come here. Police memorabilia adorns the place, including the door of a police car donated by New Orleans police as a gift in thanks for help during Katrina. But that's not the only kind of decor. The ceiling is covered with bras hanging from nails. For whatever reason, the bartender did not know why, women seem to like taking their bras off here so they hang up all the bras that women donate.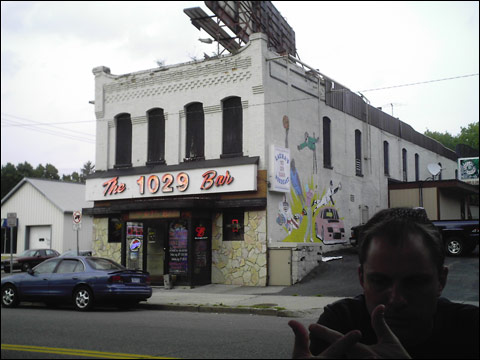 7:15pm
#70 N.E. Yacht Club [map]
Brandon: Busch
Scott: Busch
Based on the name I assumed this would be some sort of high brow place but it turned out to be a classic style dive with cheap beer.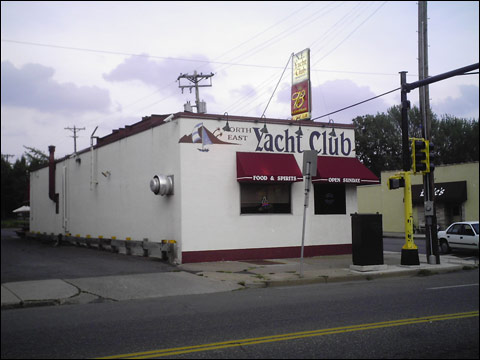 8:23pm
#71 Elsie's [map]
Brandon: Bud
Scott: Miller Lite
Elsie's is either a bowling alley with a separate bar and restaurant, or it's a restaurant/bar with a bowling alley in the back. In either case this was a pretty nice place and we were surprised that no one was bowling when we first arrived. (By the time we left quite a few people were bowling.) This place was also the start of my downfall. My Miller Lite came in a bottle and was very, very skunky. I didn't want to say anything, though, and was trying to force my way through it. But by the time Brandon was nearly done with this draw I was only a third through my bottle at best. I got up to use the restroom and due to some weird acoustics I was able to hear Brandon mention my skunky beer to the bartender in perfect clarity. When I returned I had a fresh Miller Lite draw waiting for me. But the skunky taste of the bottle still weighed heavily on me so even though this beer was fresh and delicious, I was not quite able to finish it before we left.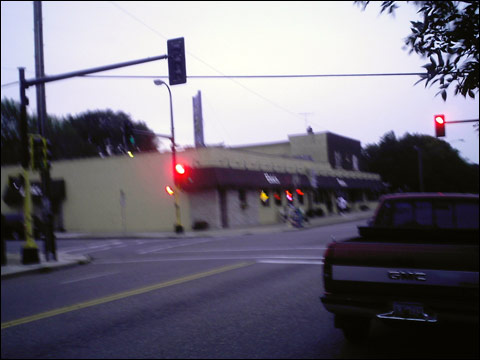 8:23pm
#72 Nye's Bar [map]
Brandon: Bud Light
Scott: Bud Light
This was a multi-room place -- originally had been one small bar but the owner had gradually bought the adjacent buildings and tacked them on. This was a polka bar and the band was setting up when we arrived. Unfortunately this bar continued our downfall, as for some reason and we do not know what, Brandon and the bartender got off on the wrong foot. The exchange began something like this:
Bartender: "What can I do for you?"
Brandon: "Two Bud Lights, please."
Bartender: (in a snappy tone) "Well then you had better have some ID on you."
The relationship deteriorated from there despite several attempts to patch it up. Several times the bartender came and stood right next to us watching us drink, making us rather uncomfortable. Then finally he started telling us about the building and we thought maybe he was finally warming up to us, until he encouraged us to take our drinks to the piano bar in the back. Just trying to get rid of us. We still have no idea what we did.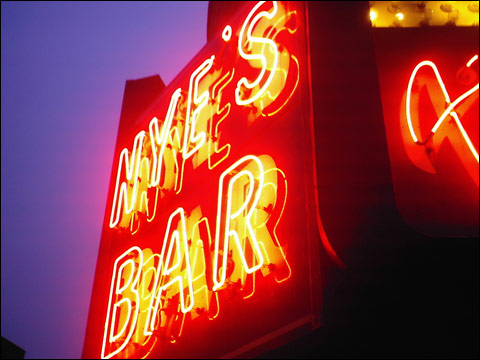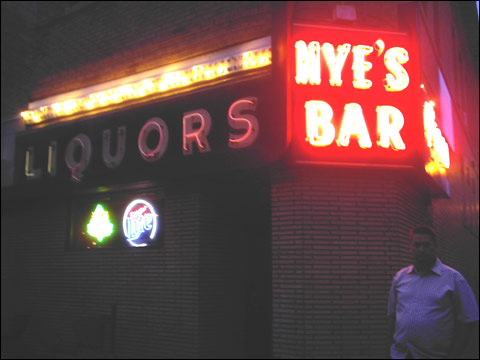 9:15pm
#73 Legends [map]
Brandon: Miller Lite
Scott: Miller Lite
This place was big, really big, and featured a patio at one end. Brandon did some exploring and found a game room downstairs, so we took our beers down there and played some darts. We went back upstairs to the bar and after I finished my beer I went to the restroom. When I returned I spotted Brandon at the far end of the place talking to someone at another smaller bar. He waved me over and we went out on the patio where we talked to two people about our trip. We were hungry for pizza and asked them for suggestions, and the place they most recommended was Broadway Pizza. They were trying to give directions but we weren't even 100% sure where we were, but then they mentioned the caboose. I had seen it earlier in the day and knew exactly where it was. So off we went.
We forgot to get a picture, but here's their web site:http://www.legendsbarandgrill.com/

10:05pm
#74 Broadway Pizza [map]
Brandon: Miller Lite
Scott: Miller Lite
With the big caboose out front and the model train running inside, this place definitely had a train theme going. The pizza was delicious and exactly what we needed. However I was still reeling from the taste of that skunky beer back at Elsie's and had some difficulty finishing mine.
We forgot to get a picture, but here's their web site:Broadway Pizza
Around 11:15pm we returned to our hotel intent on taking a short recuperative break and then setting back out. We arrived to find the parking lot overflowing and dozens of people milling about. We went inside and noticed that many were going downstairs so we decided to follow. We found a big party going on in the ballroom, the attendees nearly all African-American and dressed in white. Brandon asked a guy at the front table what was going on. "This is our annual White Party," he said. Brandon glanced around and quipped, "That's funny, it's called a 'white party' yet no one here is white." The guy laughed and said that everyone wears white. We asked what the party was for. "To celebrate our black gay pride," he said. We were given some packages of mints and we chatted a little longer before returning to the room.
After we got upstairs Brandon realized he had forgotten his phone so went back downstairs to get it. After he had been gone 20 minutes I gave him a call -- figuring maybe he was having trouble finding it and that if it rang it might help. Instead he answered, he had been coerced into returning to the party and in the middle of a debate over whether drinking brings out his inner bisexuality.
Shortly after Brandon returned I finally was getting my second wind but then he seemed beat. We debated for several minutes what to do and eventually decided to call it a night.
I had just managed to drift off when the downstairs party apparently came to an end because the parking lot was suddenly very noisy for almost an hour. Since we had had to park the car illegally earlier in the day and would have to move it once the party was over we had set an alarm for 2am. When it went off Brandon did not stir, so I got up and used the bathroom. I came back around the corner and he was still sleeping, so I decided to move the car myself. I got dressed and then started looking for the keys but could not find them. I tried to wake Brandon but he would not stir. I called his name, nothing. Turned on the lights, nothing. Finally I walked over to shake him and when I put my hand on his back it was cold and clammy. Yeah, that gave me a scare. I shook him... nothing. shook him saying his name... nothing. Gave him a really big shake and shouted his name.
"Huh? Wha?" he stirred.
What a relief. :)
Of course, right as he woke up, I saw a glimmer of metal sticking out from under a pile of laundry on the floor. So now I had waken him for no reason.
I moved the car and as I returned to the lobby I saw several groups of drunken frat-type guys returning from the Warehouse District. I returned to bed and within half an hour the frat guys were roaming the halls singing and shouting and arguing, yelling in their rooms, banging on things, and being completely obnoxious. This god awful noise continued unabated until about 4:30am when it was finally, FINALLY semi-quiet.
But only for about an hour, then guests started waking up and taking showers. Ugh.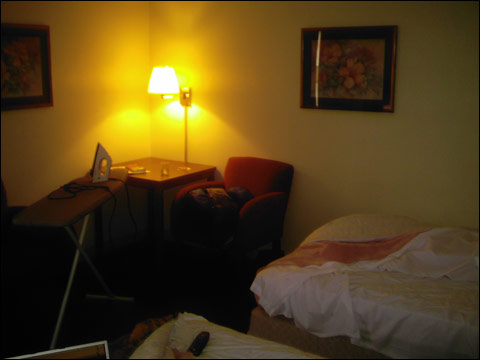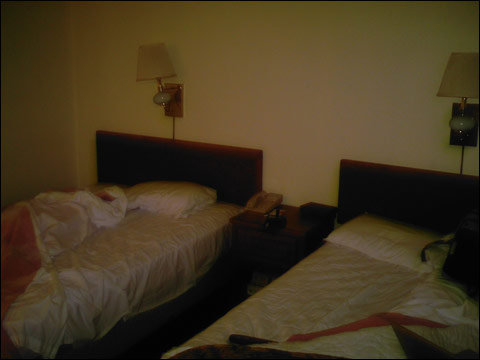 <-- Day 3 ... Day 4, Bars 59-74 ... Day 5 -->

Main