<-- Day 1 ... Day 2, Bars 22-39 ... Day 3 -->
Day 2 - Clear Lake and Mason City, Iowa
Thurdsday, August 10, 2006
Where the music died, we rode the saddle, and we got lost wandering around the city at 1:30am...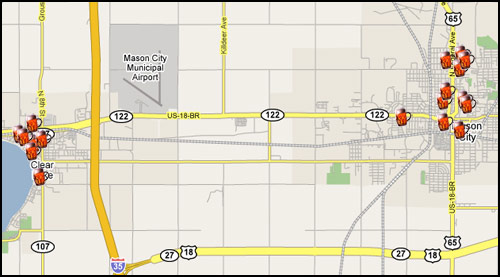 We woke up Thursday morning and had a quick McDonald's breakfast before heading north on I-35, past Des Moines and its Iowa State Fair, to the lakefront resort town of...
---
Clear Lake, IA
We intended to begin the day at Players Sports Bar but when we arrived we found it to be closed. So we headed downtown and found the same story over and over until we found...
12:20pm
#22 Rookie's Sports Bar [map]
Brandon: Miller Lite
Scott: Miller Lite
This was a 2-sided bar on Main Street right downtown. We noticed that the lower level side of the bar was all men while the upper level side was mostly women.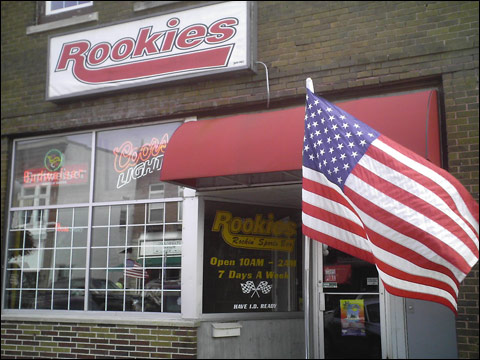 We found out that most of the bars in town don't open until 2:00 so we walked around a little bit taking some pictures...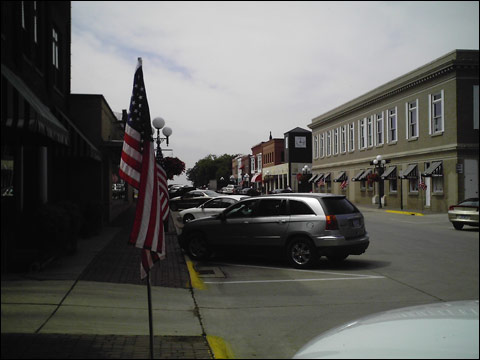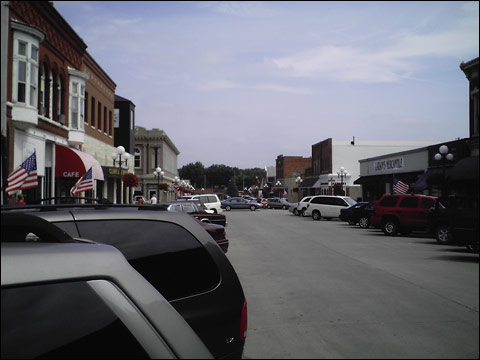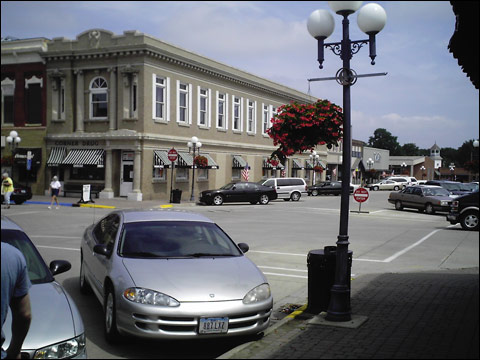 ...then we drove north to a farm field outside of down where on February 3, 1959, a plane carrying Buddy Holly, Ritchie Valenz, and The Big Bopper crashed killing all on board.
When we arrived at the crash site[map] there was an older couple from Colorado already there. The crash site was a half mile hike along the edge of a cornfield.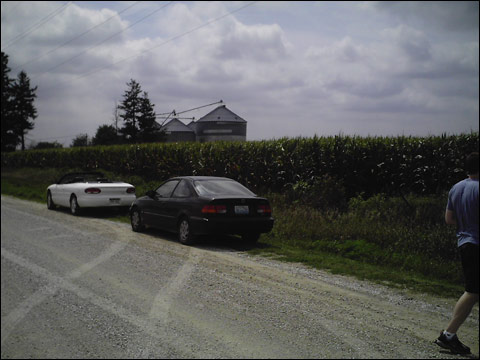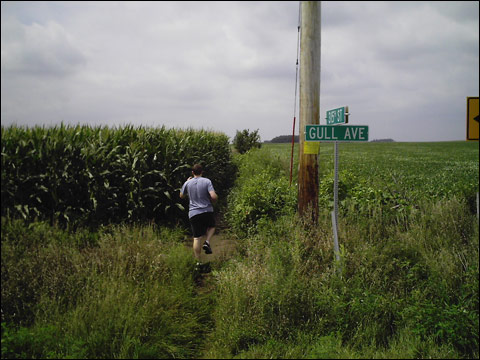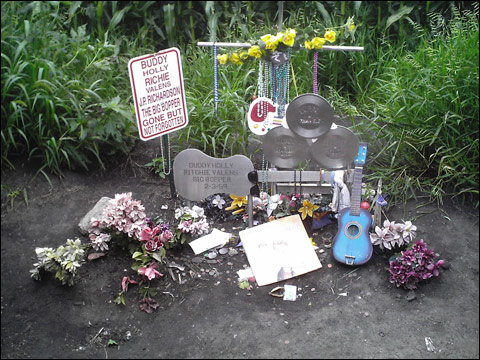 Having killed enough time, we headed back into town to find some more bars.
1:55pm
#23 The Other Place [map]
Brandon: Bud Light
Scott: Bud Light
This bar is a small chain with most of their locations clustered in north-central Iowa, but for some reason it also has an Overland Park and an Olathe location. It was a pretty big place and not very busy. We asked the girl behind the bar about places to go drinking over in Mason City (she was from there) but she said that she didn't know because she wasn't old enough to drink yet.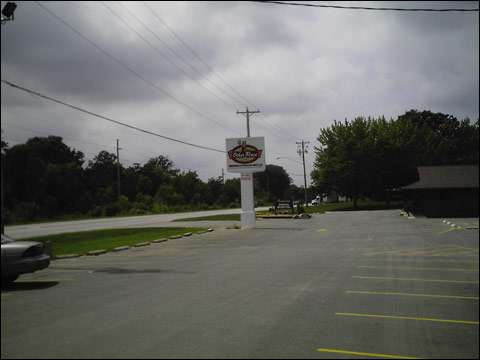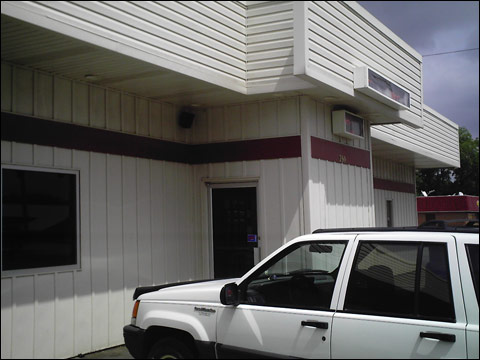 2:22pm
#24 Half Moon Lounge [map]
Brandon: Bud Light
Scott: Bud Light
This place was more of a restaurant but had a small bar towards the back. Its advertising spoke of its fine food, but the kitchen was closed.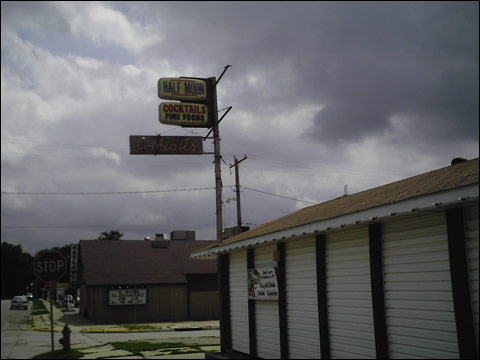 Right across the street from there we found...
2:44pm
#25 Retlaw's [map]
Brandon: Miller Golden Light
Scott: Miller Golden Light
We had a choice between draws for $4.50 total or a pitcher for $5.00. It was a tough call, but we opted for the pitcher. We looked for a trivia box to kill some time but none was to be found.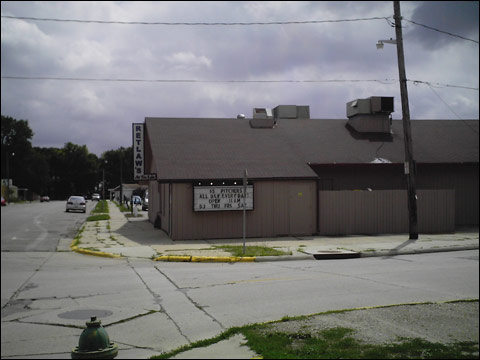 After we finished up here we went for a drive up Lake Front Road and saw this cool house....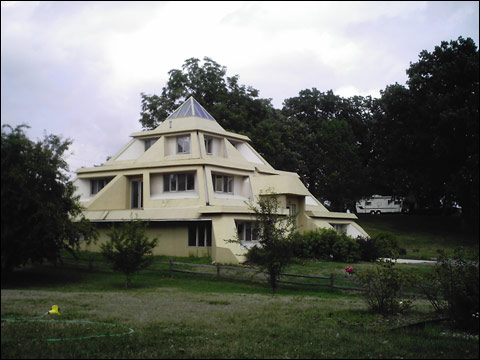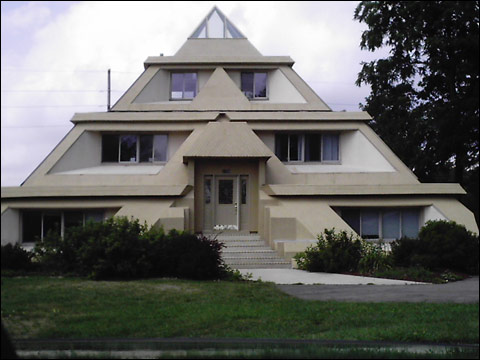 Clear Lake...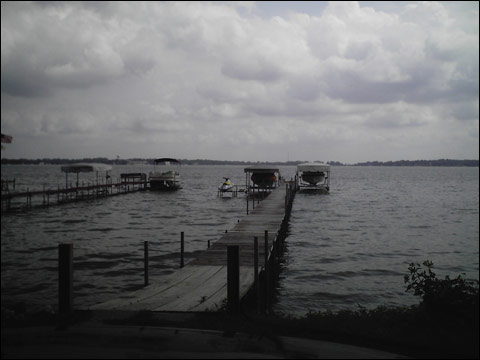 Then we went to the Surf Ballroom [map], where Buddy Holly, Ritchie Valenz, and The Big Bopper gave their last concert. The place was being set up for a visit by Senator John Edwards, but they let us wander around freely and explore the place.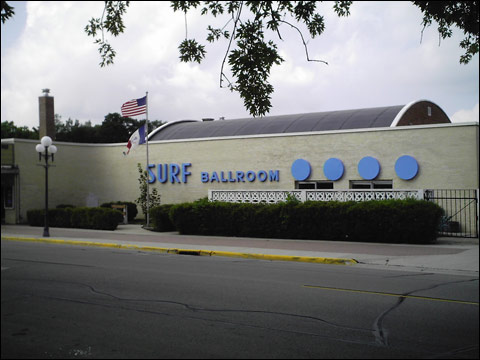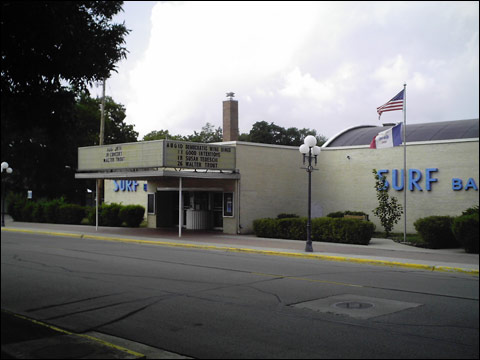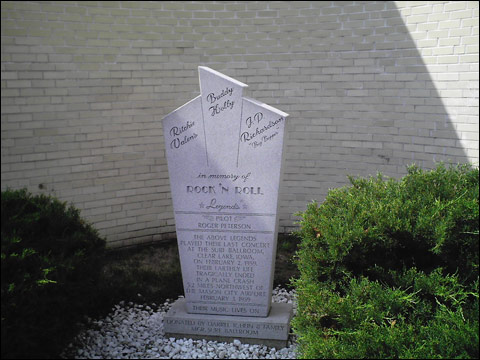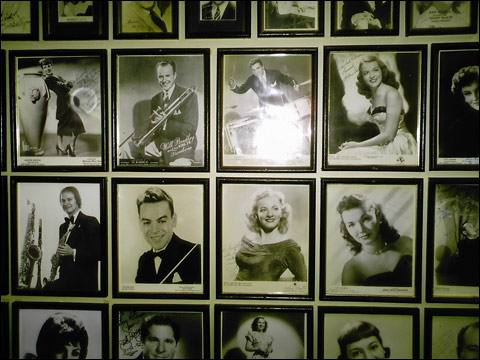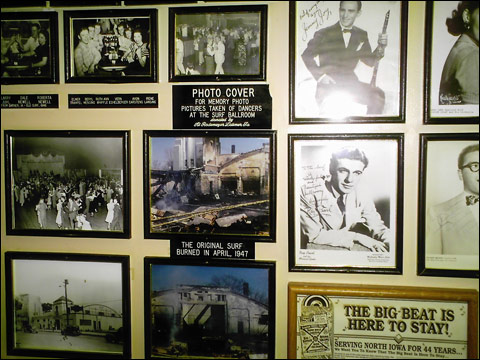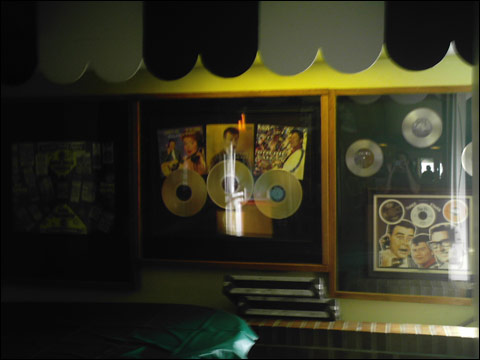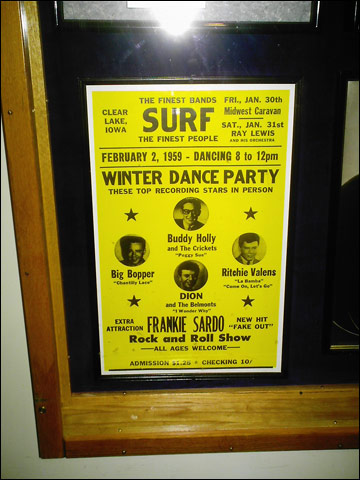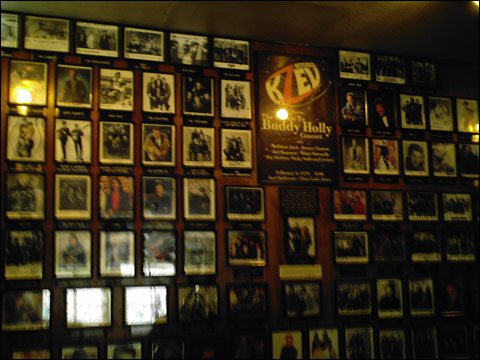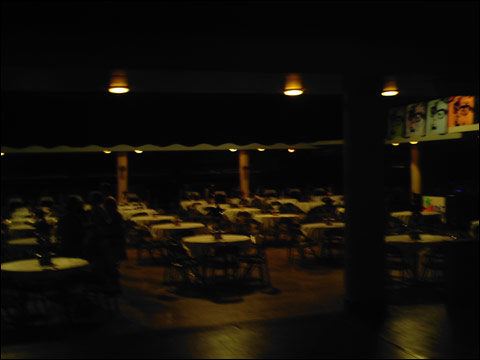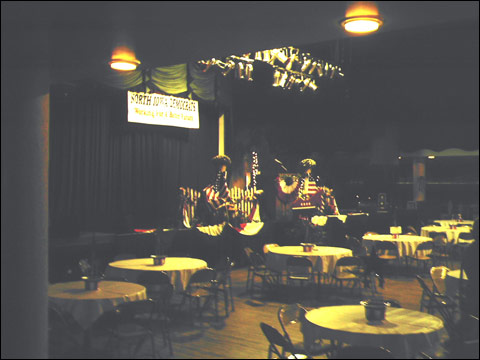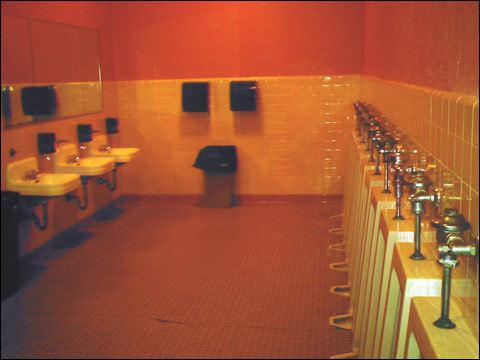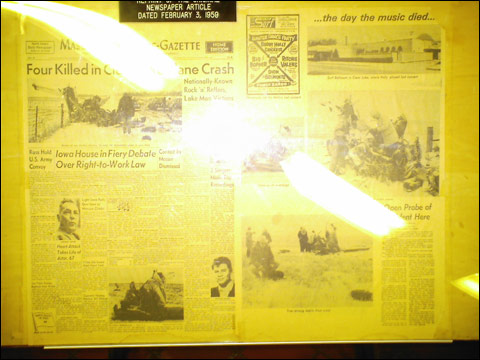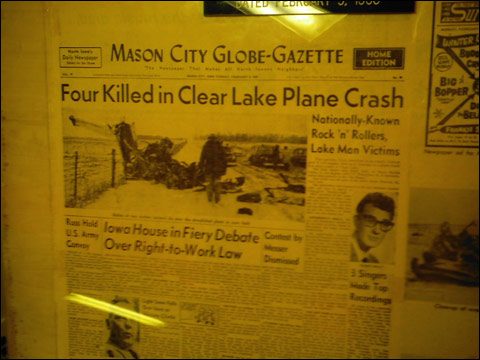 We then went back downtown...

4:15pm
#26 Ingy's [map]
Brandon: Miller Lite
Scott: Bud
At the moment I don't remember a whole lot about this place, hopefully it will come back to me later.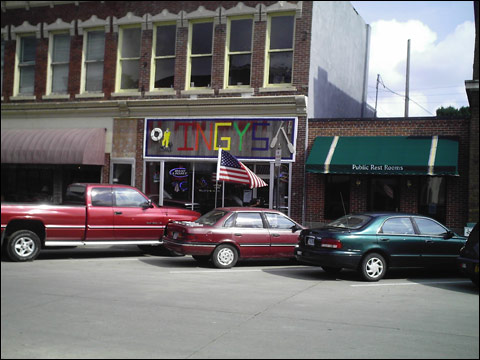 4:36pm
#27 Elly's Lake Front Tap [map]
Brandon: Bud (can)
Scott: Bud (can)
This was an interesting place -- the bar was located in the basement of what we presume to be Elly's house. (The basement had a separate entrance from the main part of the house.) The bar was U-shaped and had a few people sitting around it. Around the basement was a good deal of memorabilia from Clear Lake's history, including a brick from the original Surf Ballroom that burned. An old man gave us warning after warning about construction between Clear Lake and Mason City, rambling about lane closures and flooded out shoulders.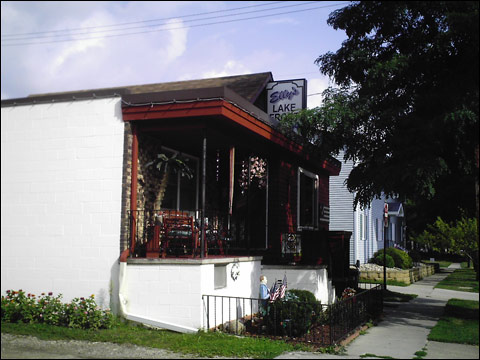 5:20pm
#28 Player's Sports Bar [map]
Brandon: Bud Light
Scott: Bud Light
Back to the place we had tried to start the day. I remember that we had to use the restroom both when we arrived and when we left.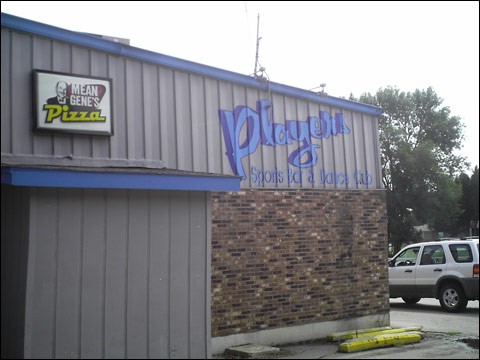 Then it was a quick drive down the road the guy at Elly's had warned us about (it was a piece of cake) to...
---
Mason City, IA
6:13pm
#29 Willow Run Lounge [map]
Brandon: PBR
Scott: PBR
We asked for a good place to eat. "Right here," said the bartender. Well, we didn't really want tacos, though, so she recommended a steak place at the north end of town.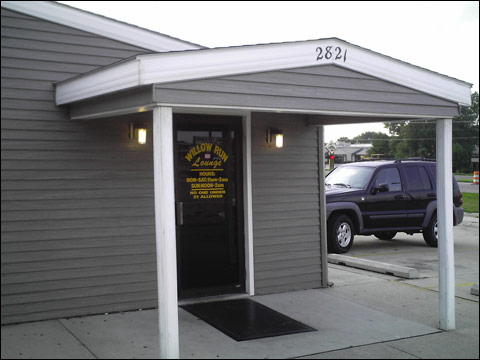 We headed on to the steak place and stepped inside to find a 1 hour wait. On a Thursday night. Might have been worth it, but we can get steaks at home and there were bars to visit.
7:04pm
#30 Mugshotz / Route 65 [map]
Brandon: Coors Light
Scott: Coors Light
Our quest for some nasty ol' bar food began here, but we didn't eat here... or at the next several places either. This places is called Mugshotz if you go by the newer sign on the side or Route 65 if you go by the sign on the front.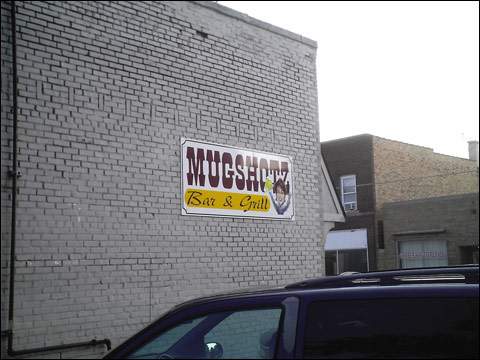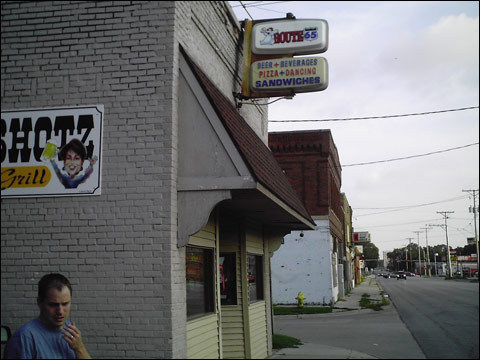 7:22pm
#31 Kozy Korner Bar [map]
Brandon: PBR
Scott: PBR
This was diagonally opposite from Mugshotz, and that's all I can remember. :)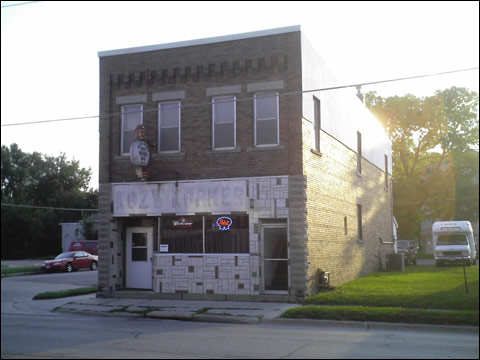 7:48pm
#32 Burke's Bar & Grill [map]
Brandon: Bud
Scott: Bud
Food was still weighing heavily on our minds and that picture of a burger on the front helped pull us in. Once inside however something about the place made us decide to keep waiting.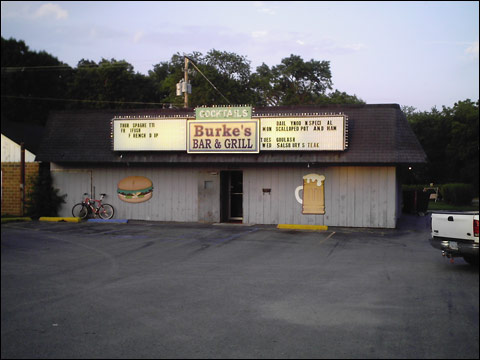 8:15pm
#33 Champions Sports Bar [map]
Brandon: Miller Lite
Scott: Miller Lite
I remember this being a nice little place not far from the downtown square but that's about all I remember.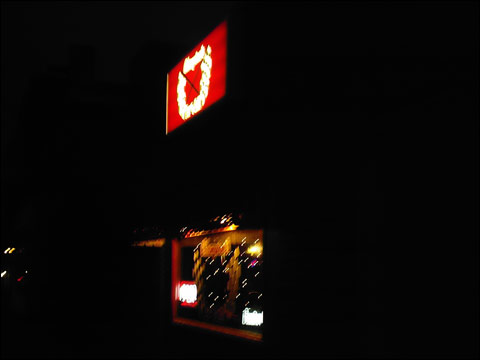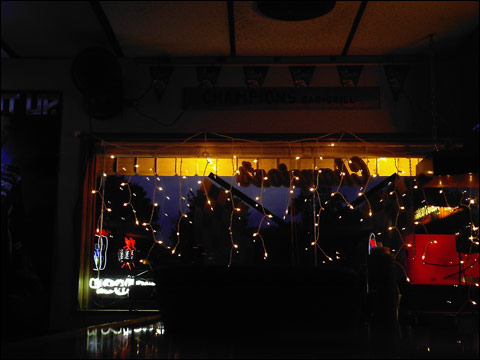 8:55pm
#34 Rhythm and Brews [map]
Brandon: Bud Light
Scott: Bud Light
(Formerly Cousin's Sports Bar) This place had a nice bar and eating area. We got a medium all-meat pizza here that was really good -- very meaty and flavorful.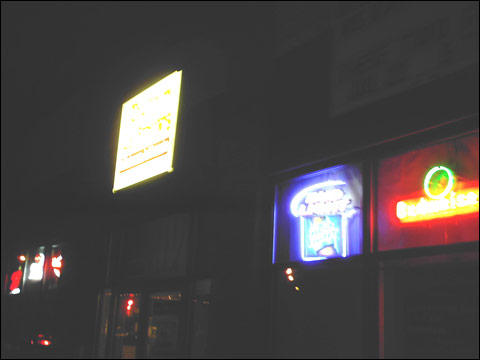 (Daytime picture taken on the return trip)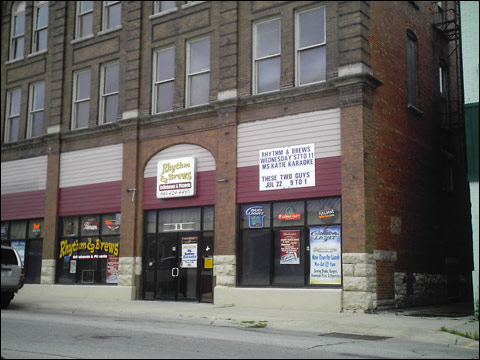 9:57pm
#35 Wok 'n' Roll [map]
Brandon: Bud Light
Scott: Tsiangtao
The Chinese bar/restaurant with a funny name. A fairly elegant place but a pleasant spot for a drink. The bartender was a young guy who chatted it up a bit with us and the other two customers.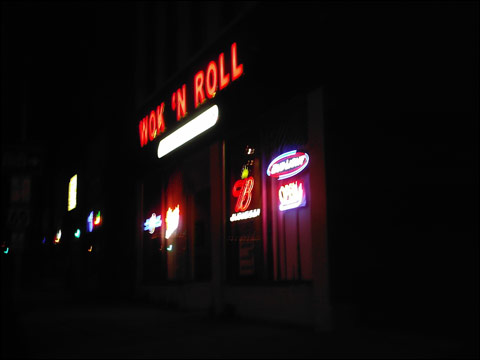 (Daytime picture taken on the return trip)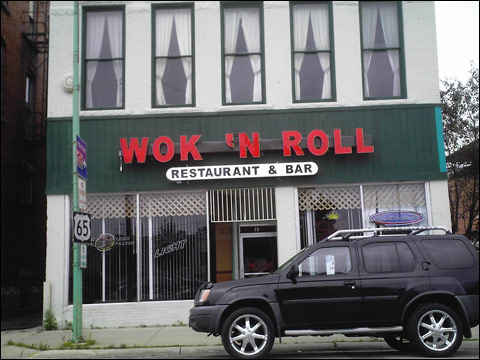 We checked into our motel, the Best Value Inn [map]just south of the downtown square and next to a Kum-and-Go. After a brief rest we set back out, first heading south.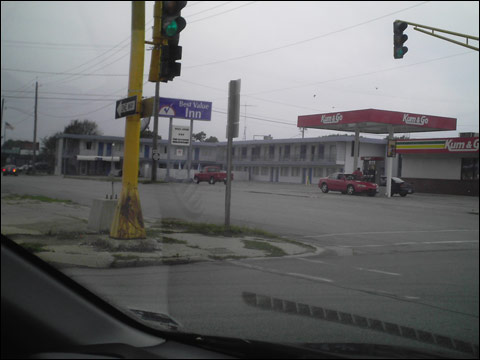 11:12pm
#36 The Saddle Company [map]
Brandon: Busch Light
Scott: Busch Light
This was a fun little dive. As we talked to the bartender a nearby customer asked what brought us up from Kansas City. When we explained our quest and that this was the 36th bar we had been to, he insisted we get up on the saddle in the back of our place and get our pictures taken.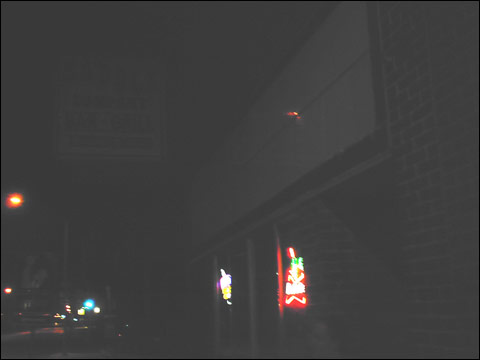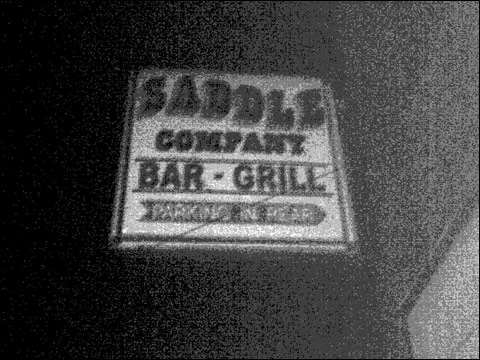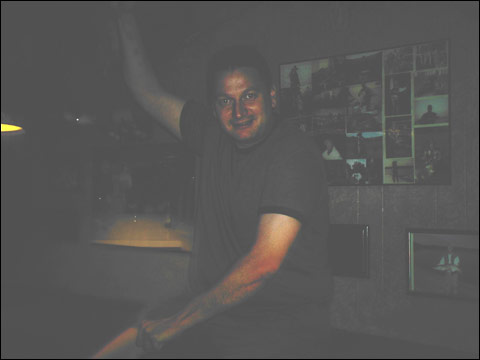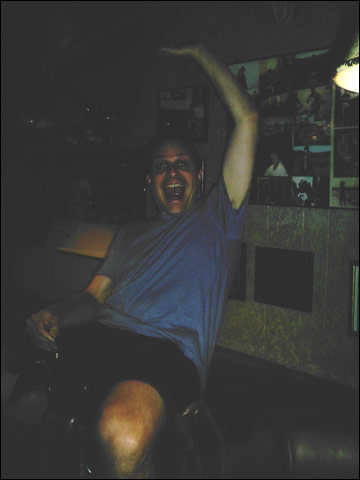 As we left I overheard him telling other customers "Did you hear what they are doing? This is their 36th bar!"

11:36pm
#37 South Federal Reserve [map]
Brandon: Miller Lite
Scott: Miller Lite
Formerly Sallee's, this had the smallest tap of anyplace we'd ever seen. We inquired about a bar on our list called Metalcraft located near the mall but no one had heard of it. Later I would learn it came up on our bar search because they make bar code dies. :)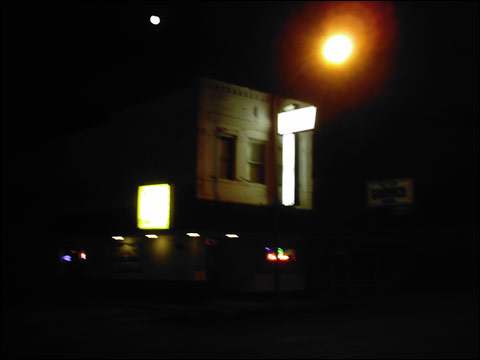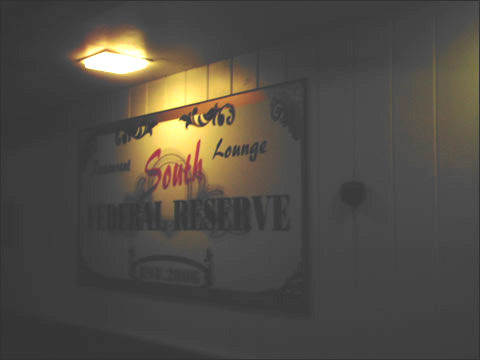 We then walked back past our motel and back into the downtown area.

12:22am
#38 The Candy Bar [map]
Brandon: Coors Light
Scott: Coors Light
Formerly The Poodle.
I don't remember much about this place other than approximately where it was.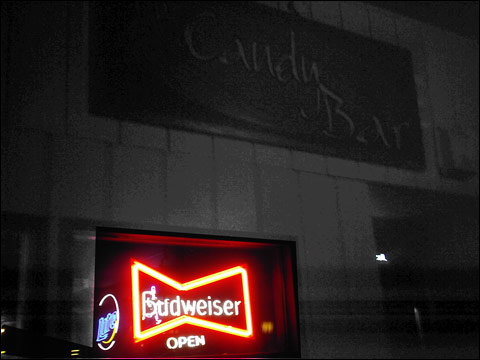 12:46am
#39 Sportsman's [map]
Brandon: Icehouse
Scott: Killian's
This was the first time I had tried a Killian's, and I liked it. The bartender was a tall blond-haired guy who talked about Mason City in its night-life heyday (complete with strip clubs) and went off on the conservative voters who keep tightening up the laws and getting things shut down. He warned us to bee careful walking back to the motel, as the police love to pick people up for public intoxication. "Would they rather us drive?" Scott asked. "That's exactly what I tell them!" the bartender said.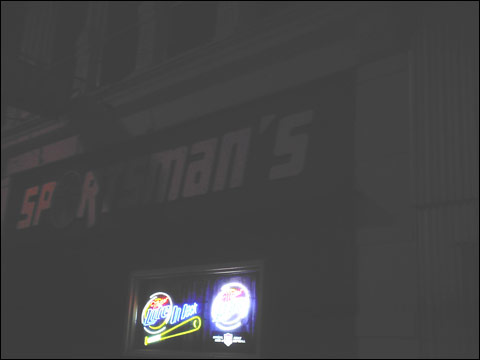 When we stepped outside I turned the wrong direction and against Brandon's better judgment he followed. We walked towards what we thought was out motel and were wondering why it was taking so long. Finally we got to the Kum-n-Go but could not find our motel. We stopped in for a few snacks and Brandon figured out it must be a different Kum-n-Go. So we paid for our snacks and kept going. A moment later we found ourselves back at Mugshotz and realized we were now at the wrong end of town. As we got out bearings and turned to go the right direction, several police cars nearby started driving by slowly. We made sure to walk straightly and quietly and eventually found our way back to the motel. Total round trip detour: about 3 miles.
At 2:23am we finally were back in out motel room and flipped on the TV to find the end of "The Buddy Holly Story" on TBS. Very odd that we caught this at the end of the same day we saw the place where he died.
<-- Day 1 ... Day 2, Bars 22-39 ... Day 3 -->

Main