<-- Main ... Day 1, Bars 1-21 ... Day 2 -->
Day 1 - Rural South Central Iowa
Wednesday, August 9, 2006
Where we visit some of the smallest towns we have ever seen and meet some colorful characters including a rather entertaining drunk...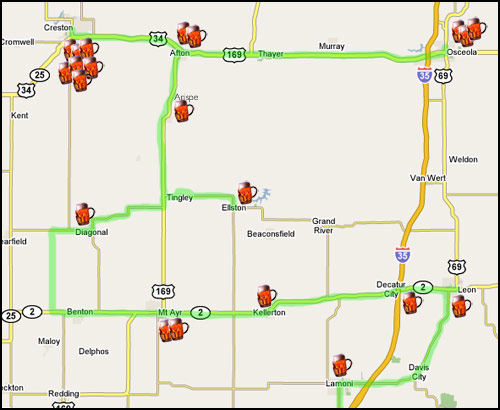 We departed Kansas City around 8:30 in the morning and headed north on I-35. Our first stop was Brandon's old college town.

Lamoni, IA
10:45am
#1 The Raging Buffalo (restaurant side) / Characters Sports Bar (bar side) [map]
Brandon: Busch Light
Scott: Busch Light
Located right in the heart of downtown. A big place with lots of TVs and memorabilia. Officially the bar proper is only open on weekends. The rest of the time, while you can still order alcohol, a huge red curtain hides the bar so that the extremely conservative locals won't have to be offended by seeing it while they are eating.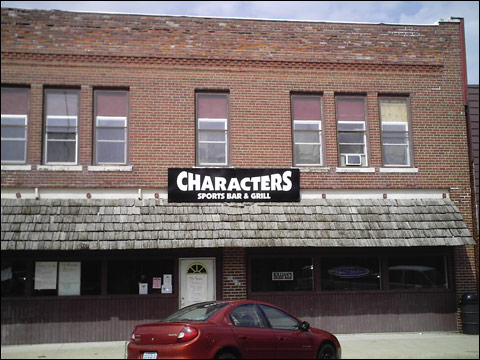 After the bar we had a pretty decent pizza at The Pizza Shack while Brandon read off trivia cards. We also drove around to see the Graceland University campus and the houses Brandon used to live in.
---
Davis City, IA
Monie's Place was closed. We took a picture of its former location; the new location was in another old building a block away. Brandon had called ahead the week before and learned they typically open at 4pm sdo we figured we'd probably miss this one. But the owner also mentioned that she'd open whenever she feels like it if she knows there would be customers. We decided not to try to track her down though for just one beer.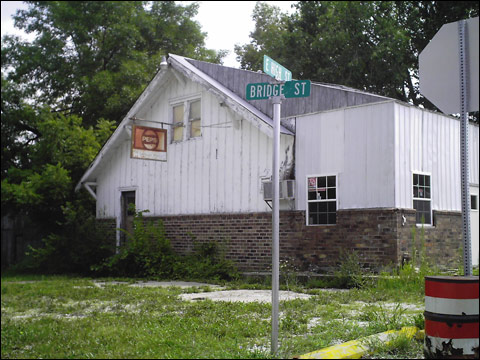 ---
Leon, IA
12:10pm
#2 Bear's Den Pub [map]
Brandon: Bud
Scott: Bud
This place had a roulette-like game that used the ceiling fan as the spinner.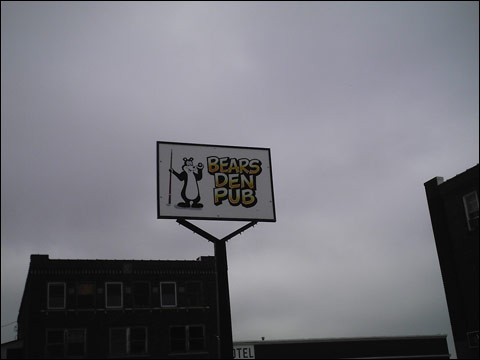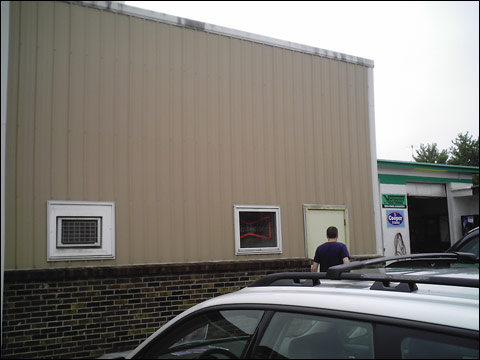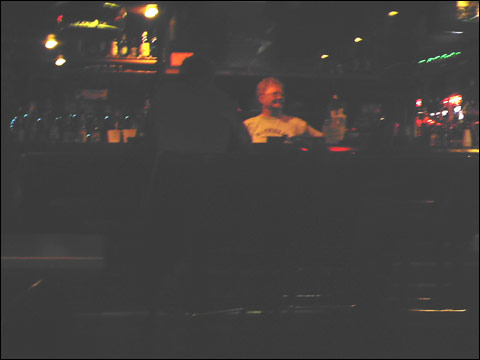 Kort House Lounge
A couple of people were stepping out of the Bredeaux Pizza across the street as we were taking a picture. We walked up to the door and found it locked. Just then the older man who had seen us take the picture asked if he could help us. It turned out he was the owner! A former county judge, he had opened the bar after retiring and mentioned that his mail used to wind up at the courthouse and vice versa. However 2 years ago after having coronary bypass surgery he had to make the bar smoke-free for his own health, and business dwindled off too much to keep the bar open. It is now a liquor store.
The logo was the scales of justice with a beer on one side and a martini on the other. "We Serve Just Us"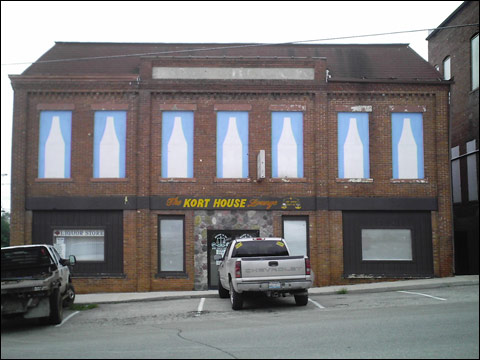 ---
Decautur City, IA
12:42pm
#3 Poor Boy's [map]
Brandon: Miller Lite
Scott: Miller Lite
Lots of dead animals on display, and showers in the restrooms, leading Brandon to believe this used to be a hunting lodge.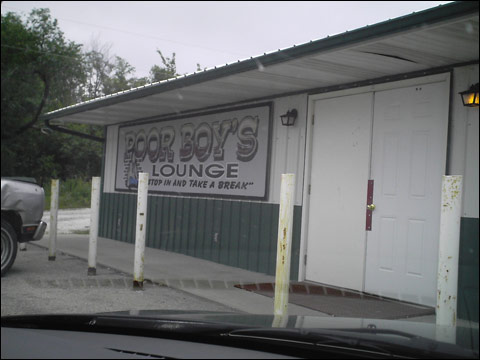 ---
Kellerton, IA
1:15pm
#4 K-Town Legends [map]
Brandon: Bud Light
Scott: Miller Lite
We drove onto the main strip in this quiet little town, lined with several run-down buildings, some empty, but many being rather architecturally interesting buildings. This was probably a pretty little town back in its day. As for the bar, it had no signage anywhere outside or inside that told us what the name was so we had to ask the bartender. We noticed some bowling trophies on a shelf above us, and a back room behind a curtain that we didn't go check out.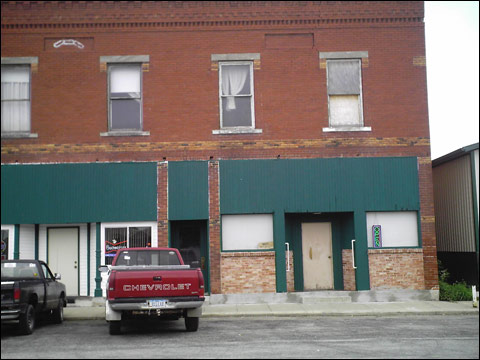 ---
Mt. Ayr, IA
1:48pm
#5 Smith's Sports & Spirits [map]
Brandon: Miller Lite
Scott: Bud Light
This place was a lot more of a restaurant but the kitchen was already closed, not reopening again until supper. We sat at the bar towards the back of the dining room to enjoy our drinks and get some info from the bartender about other places in town.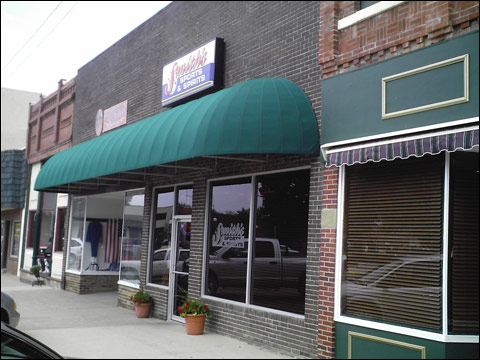 2:04pm
#6 The Office [map]
Brandon: Bud Light
Scott: Miller Lite
When we stepped inside we found the bartender sitting in a chair behind the far end of the counter watching soap operas on a little TV she had set up on a stand. After serving our drinks she returned to our soaps and we don't think she ever said another word. As she watched her show, Brandon scanned the room and spotted a piece of bar decor on a shelf fashioned to look like a bucket of Miller High Lifes.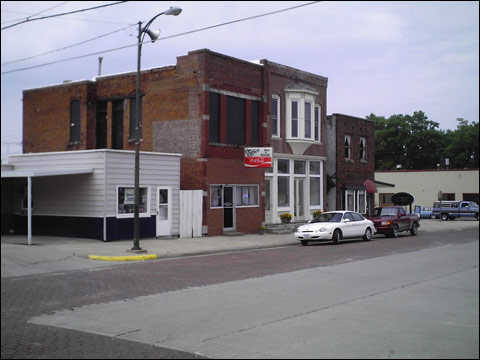 We next tried to go to a place called Lefty's but found it to be closed.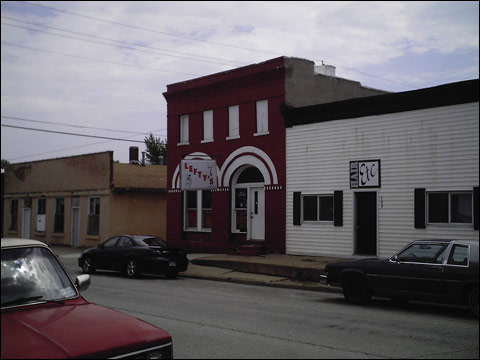 We then embarked on a long, winding route until we reached a town known for its printing museum...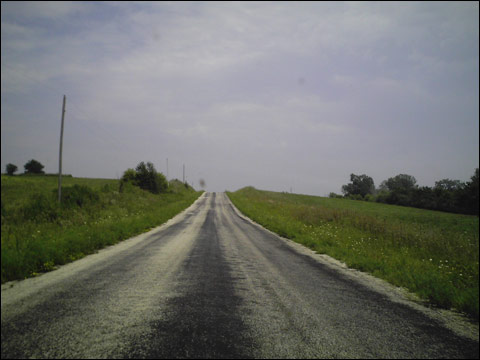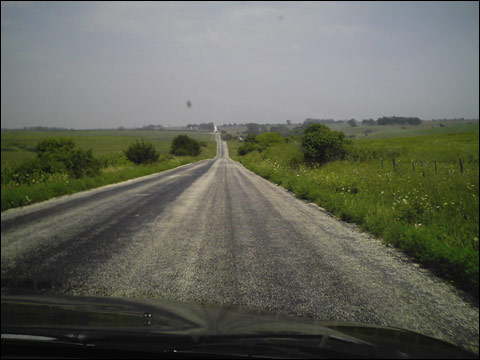 ---
Diagonal, IA
2:48pm
#7 G&L Bar & Grill [map]
Brandon: Bud Light
Scott: Bud Light
From the outside this was probably the most run-down looking of any place we visited but once we stepped in we found that it wasn't too bad. While I was using the restroom the bartender swiped Brandon's driver's license through a device that verified his age. We were surprised that of all places, this was the first we ever saw such technology. The bartender seemed a little bit nervous about us at first but she warmed up to us a little after a while.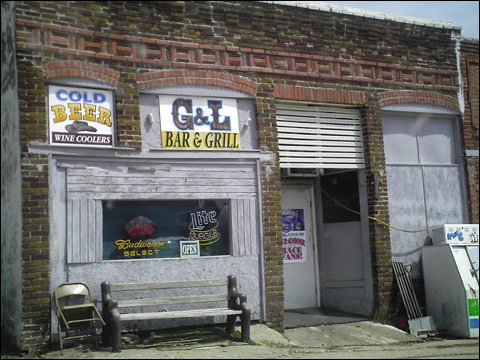 Once we were done here it took us a little bit to figure out how to get to our next highway -- in part because out here highways look like any other narrow barely-paved road.
---
Our next town to visit was Tingley, a place we had been anticipating all day because we liked saying the name. When we arrived, however, we could not find the bar that was supposed to be there. We stopped at a general store and I went in and asked how to get to the local bar.
"We used to have a bar, but the crazy people of this town went and voted to make this a dry town. So now the closest bar is over in Ellston."
Now, Ellston wasn't on our planned route and as we had driven around Tingley we noticed that the highway leading towards Ellston was closed.
"Oh, it's not really closed," one of the customers said. "Just go around the barricades and drive on through. No one is working today."
So we did - and set out navigating a stretch of dirt "highways" that looked like they had been hit by mortar fire. Most of these roads carried multiple routes, so there were some pretty complicated guideposts.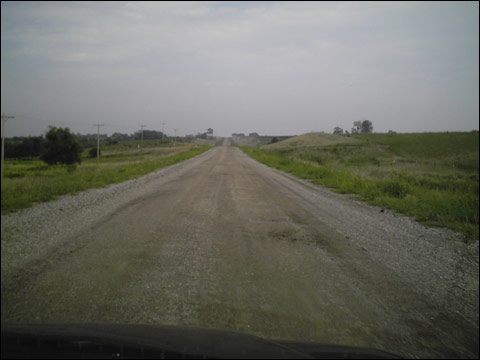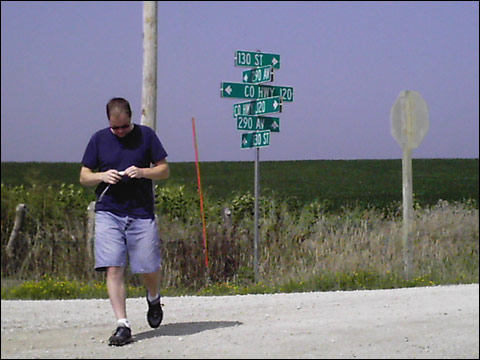 Finally we arrived in Ellston, population "Oh about 40" according to one of the locals.
---
Ellston, IA
3:38pm
#8 Darlene's Place [map]
Brandon: Miller High Life
Scott: Miller High Life
"We're damn lucky to have this place," said one of the two locals having a few drinks inside. "I don't know how much longer we'll have it, though, the owner's getting up in years," he added. I really wanted to get a picture of these guys, they were the classic extremely-rural older farmers. We sat at the short-end of this L-shaped bar in this well-lit space and enjoyed the presence of a stuffed and mounted goat head on the wall smoking a cigarette.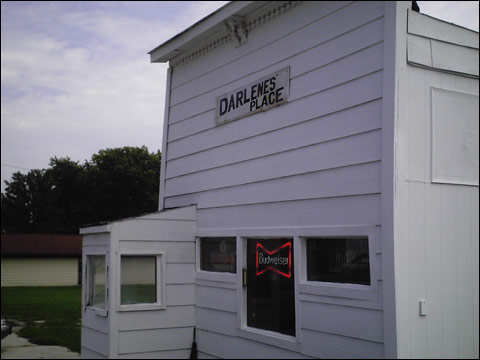 ---
Arispe, IA
We assumed the bar would be in the town proper so we turned right to go down the main strip. We did not find a bar but did find both City Hall and the Library.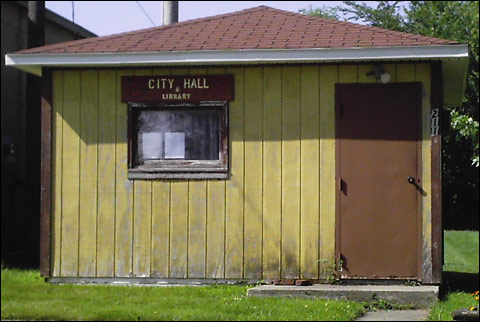 We returned to the highway on another road and found that the bar was right by the highway after all.

4:11pm
#9 Long Branch Lounge [map]
Brandon: Coors Light
Scott: Coors Light
This place had a pretty big dance floor. When Brandon explained to the bartender that we had come up through Lamoni, she told us all about her sons going to school at Graceland University on a football scholarship and how they are required to eat at least 2 meals on campus each day.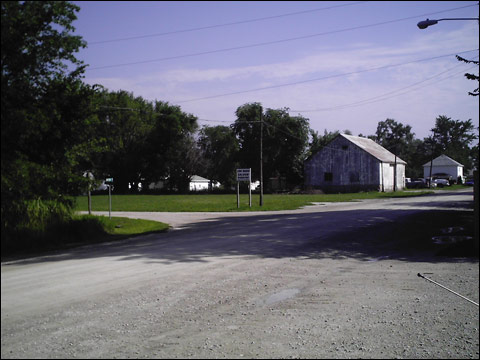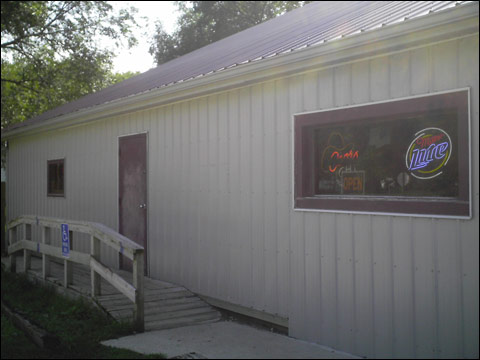 ---
Afton, IA
The original County Seat of Union County
4:28pm
#10 Bert's Pub & Grub [map]
Brandon: Bud Light
Scott: Miller Lite
This was a really cool looking building and looked like a place you'd expect to find in one of the older downtown areas in KC. It had an awesome wood floor, very high ceiling, and a bar wrapped in leather. Our bottles were served up in beer cozies. We noticed what looked like an old fashioned elevator in the back and asked the bartender about it. She told us that the building used to be a Gamble's department store and that the elevator was hand-operated -- you simply pulled on a rope and an elaborate system of pulleys would lower and raise the platform with ease. It had been used to bring goods upstairs in the past, now they use it to take out their trash. She got on and gave us a demonstration of how it worked. Later she showed us old pictures of the building as a department store, then took us to the back room that to our surprise was set up for pole dancing and cage dancing. We ended up tripling our tip.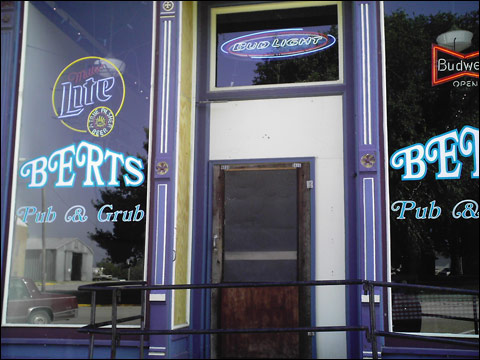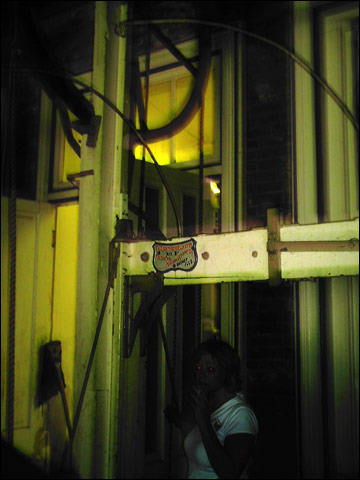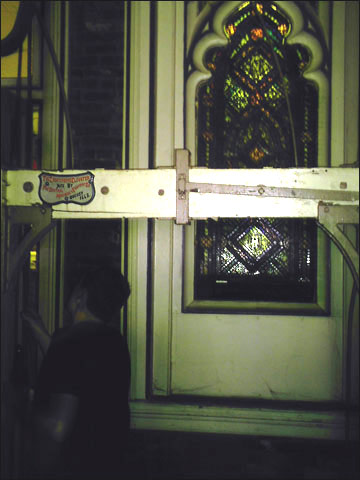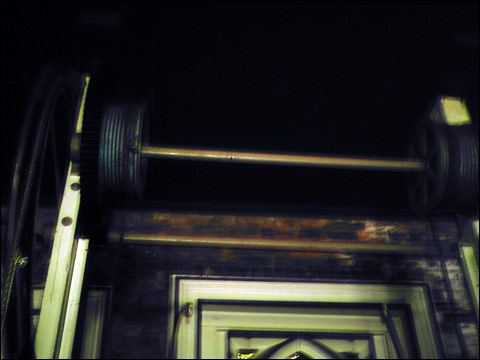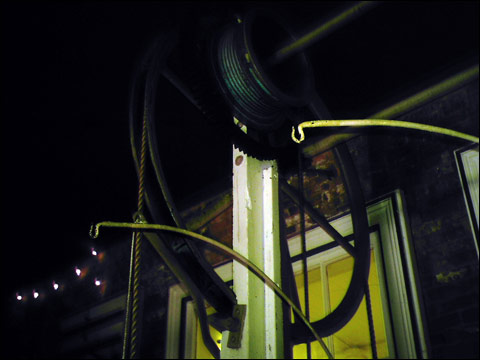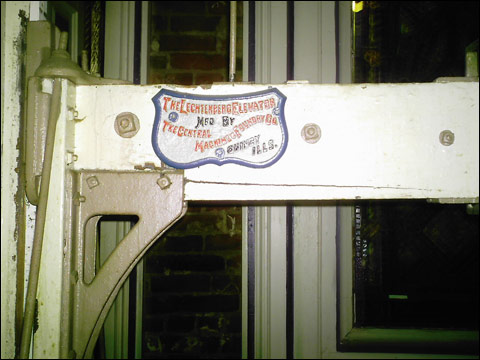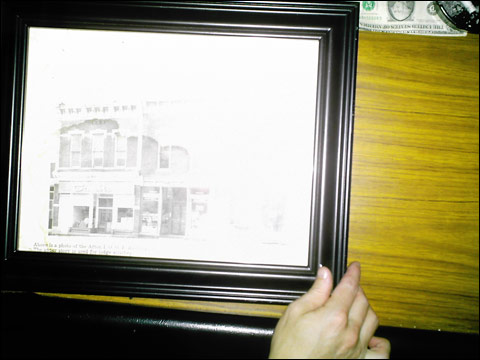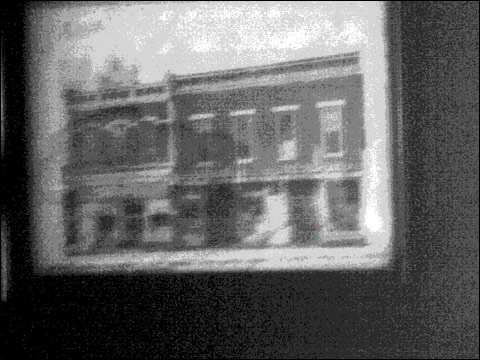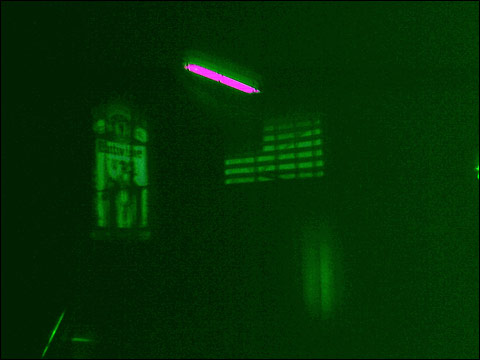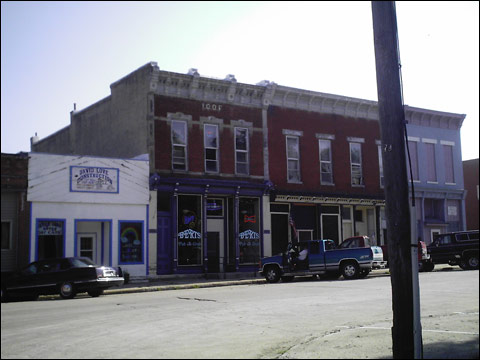 5:12pm
#11 TJ's [map]
Brandon: Miller Lite
Scott: Miller Lite
After Bert's Place having a beer in what was essentially a Butler building wasn't quite as enchanting but this was still a fairly nice little place. At least we got to see a guy driving a lawnmower as we entered.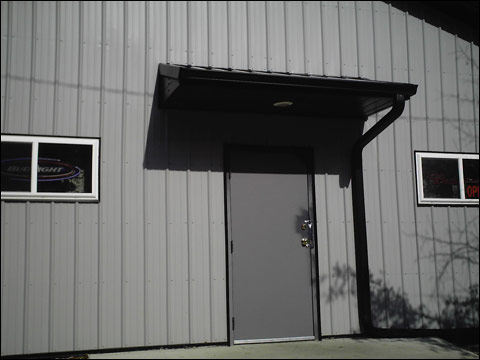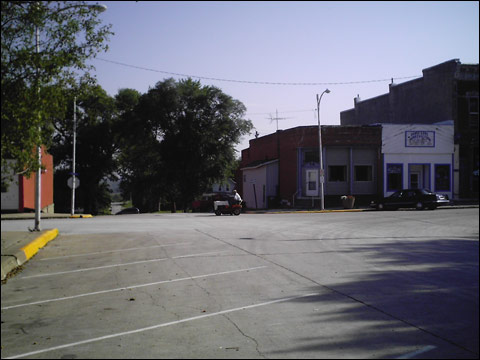 As we left we saw several people in a park across the street playing basketball fully clothed, including jeans "Who plays basketball in jeans when it's 100 degrees?" Brandon asked.
---
Creston, IA
Creston, the County Seat of Union County, had been planned to be our stopping point for the night.
5:58pm
#12 Elms Club [map]
Brandon: Bud Light
Scott: Bud Light
Unfortunately I don't really remember this place.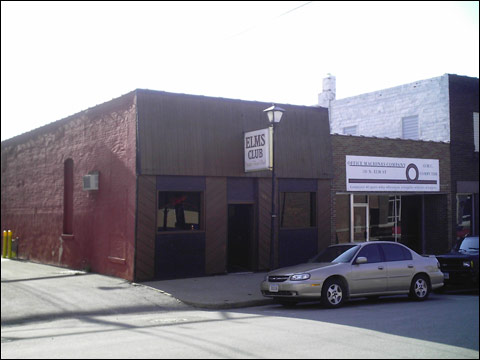 6:28pm
#13 Goodtime Charley's [map]
Brandon: Miller Lite
Scott: Miller Lite
This was a fairly large place with a long bar, font and rear entrances, that was split lengthwise with the bar and some dining tables on the south side and a separate overflow dining room on the north side, a split-level a few steps down. I had to use the restroom but when I went to check it out found that the one-hole men's room was clogged. "Out of order," I said to Brandon as I returned to the bar. "I'll bet there's one downstairs," Brandon said. I went downstairs and sure enough found one... with the lid down and encrusted with smears of dried fecal. Grabbing a paper towel I gingerly lifted the lid. Upon returning I said "In case you need to use the restroom I left the lid up, you'll understand why and thank me for it."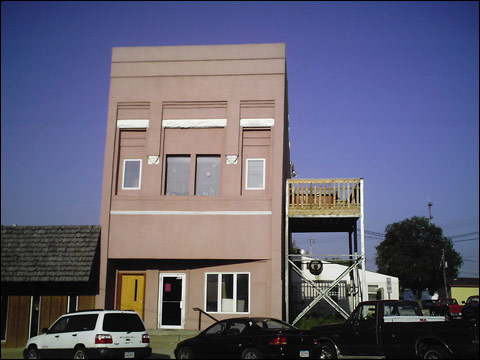 We exited through the rear and proceeded to...
7:02pm
#14 Montgomery Street Pub [map]
Brandon: PBR
Scott: PBR
A fairly small place with an L-shaped bar and a slightly rowdy crowd. One guy was particularly drunk and tossed out a few bucks to buy a shot for a newlywed couple at the other end of the bar.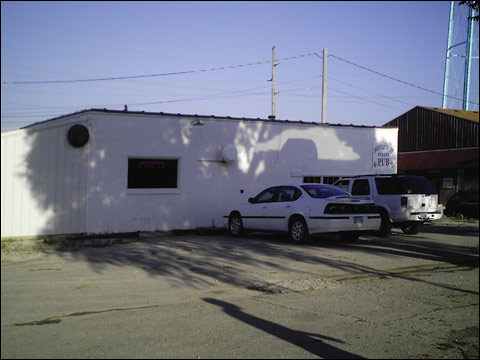 7:35pm
#15 American Legion - Post 70 [map]
Brandon: Miller Lite
Scott: Miller Lite
I was starting to feel a bit of intoxication here. We munched from styrofoam cups of snack mix and I found that the restroom had the smallest trough-style urinal I had ever seen.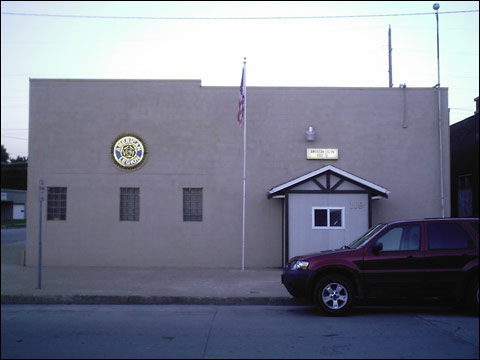 8:14pm
#16 Eagles Lodge - Post 1398 [map]
Brandon: Miller Lite
Scott: Miller Lite
The bar area was quite large and located on the upper level. We think this may have been a members-only place because we were supposed to sign in up front, but no one was looking so Brandon suggested we just stroll in "like we know what we're doing". This place had a big, rectangular bar. As we drank our beers we didn't really notice that the drunken guy from the Montgomery Street Pub was also there.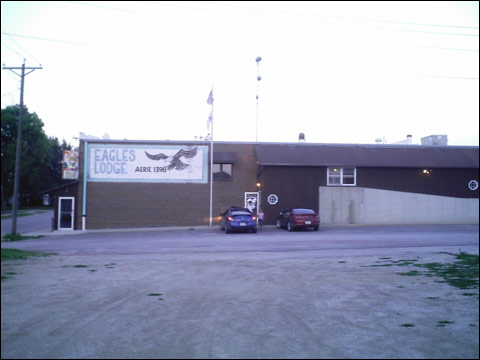 When we left, that same guy had left seconds ahead of us, and he began to stumble down the stairs. Brandon grabbed him to steady him and he thanked us. He then went into a spiel about how his wife and son had beaten him earlier that night so the police took him to the bars to get him away from then. He pulled up his pants legs to reveal several scrapes and bruises to support his claim. He said that they do it to him all the time. Eventually the topic of where we were from came up and when we said "Kansas City" he got really excited. "No shit?" he began, "my daughter's a Kansas City Chiefs Cheerleader!"
We didn't believe him, but he insisted. "Come on, they have the posters and she's on the calendar. I'll prove it."
He led us back to the Montgomery Street Pub, where as soon as we stepped in the bartender looked him on the eye and said "No, no more tonight." "I'm just here to show them the calendar," replied our new friend. "Oh," said the bartender, "we don't have that anymore, it was for last month." "So is it true?" we asked, "Is his daughter really a Chiefs cheerleader?"
"Yes, she is," vouched the bartender and several patrons.

After we managed to lose the drunken dude, who now wanted us to go with him to his shop to see the poster he had there, we were going to head on out of town. But then my eagle-eye spotted...
9:02pm
#17 Twilight Zone [map]
Brandon: Miller Lite
Scott: Miller Lite
Everything about this place screamed dance club from the outside and we were a bit hesitant, but once inside we saw no prominent signs of a dance floor. Brandon noted that the different font of the letter "W" was likely the only thing making this bar's logo not be a trademark violation. Both Miller and Bud had sponsored their signage.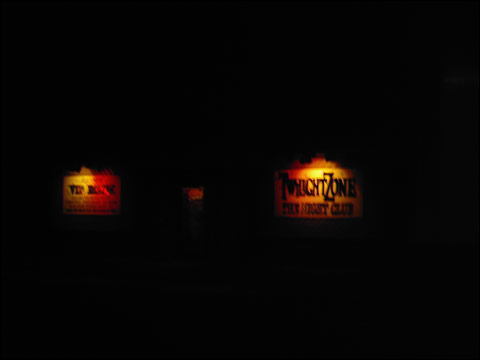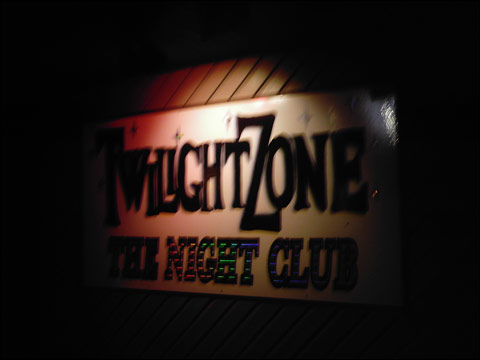 When we first arrived in town we noticed a building on the opposite side of the tracks that looked like it had bar potential. Now as we were about to leave we noticed it did indeed have some neon signage in the windows. We went to check it out and sure enough, it was a bar.

9:45pm
#18 Sidetracked Again [map]
Brandon: Bud
Scott: Bud
Due to the extreme darkness a good picture could not be obtained either outside or inside. But this bar's most prominent feature was a large Hamm's bear inside the front window. We asked the bartender why it was called "Sidetracked Again". "'Sidetracked' comes from being next to the railroad tracks. We used to be on the other side, but the city closed us down because they said they needed to build a store there. So then we moved over here and now we're 'Sidetracked Again'."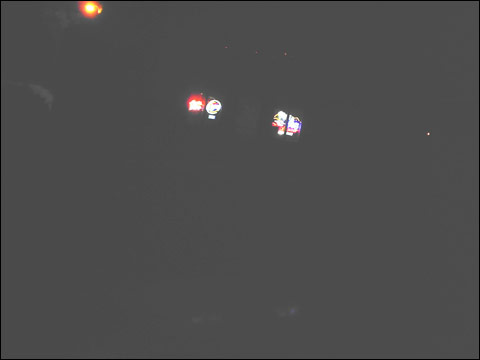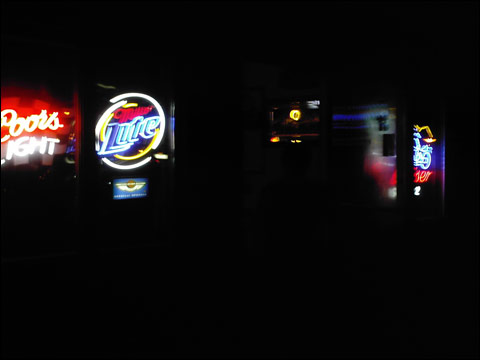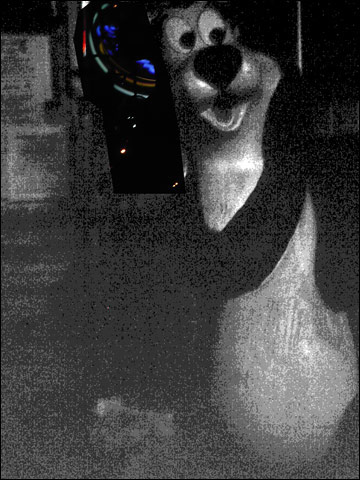 By the time we left here a really eerie fog had set in. It was still too early to stop so decided to head east. We gassed up at a cricket-infested service station (note the discarded cigarette next to the fuel pumps) and started heading east.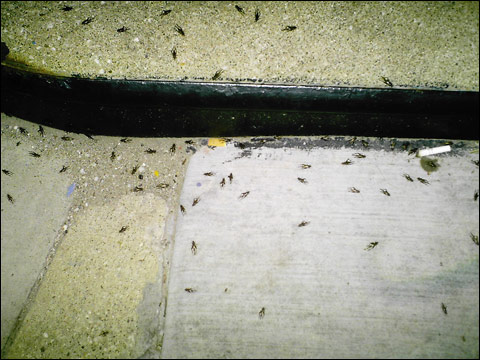 The road was dark and empty, with fog in the valleys and a nearly-full moon in the sky. We knew of two small towns ahead that we were going to check for bars in, but never spotted them. Halfway to Osceola, our backup stopping-for-the-night town, we had to pull over to the side of the road to release some bio-processed beer into the wild. As we headed back down the road the fog kept sticking to Brandon's windows and was starting to piss him off
---
Osceola, IA
Home of the Terrible's casino. We got ourselves a room at the Blue Haven Motel near the center of town (can't beat the price!) and headed back out into the foggy night...

11:17pm
#19 West Side Tavern [map]
Brandon: Bud Light
Scott: Bud Light
Young crowd, bolted leather seats, country music, 5 ceiling fans with none of them on. I got a phone call and was yakking on the phone for about 5 minutes, irritating Brandon. Baby food jars with holes poked in the lids served as salt shakers.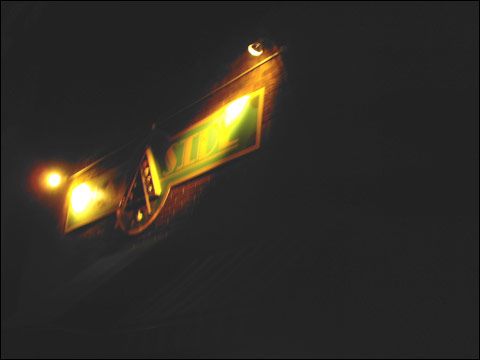 11:49pm
#20 Plain Jane's [map]
Brandon: Miller Lite
Scott: Miller Lite
The guy behind the bar confirmed that there were only 3 "real" bars in town.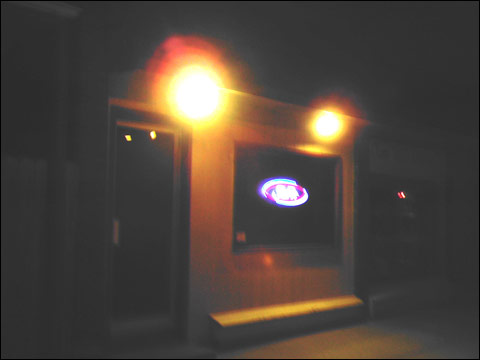 12:02am
#21 Rookies [map]
Brandon: Coors
Scott: Coors
Last stop for the night. Good sized bar. There were 2 girls and a guy chain-smoking next to Brandon.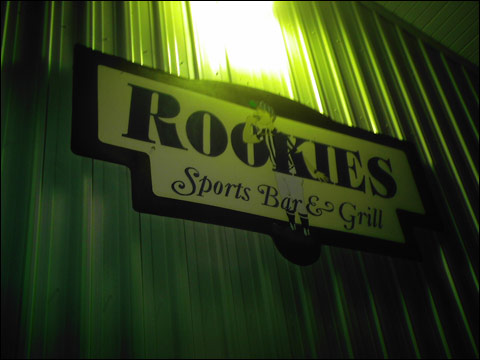 We stopped off at another cricket-packed gas station (with fogged up windows) to get some snacks. Fiery habanero Doritos, Pizza crackers, beef sticks, candy bars, and a gallon jug of water. I also learned not to use an ATM while drunk. We returned to the motel and snacked away. By morning we had polished off half the jug of water.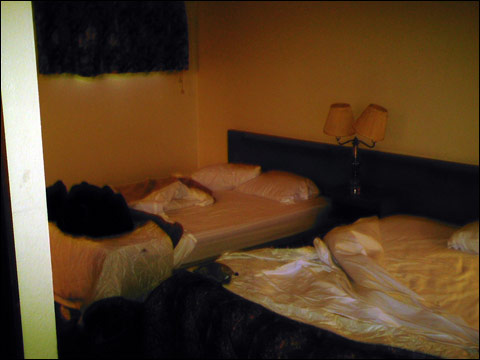 <-- Main ... Day 1, Bars 1-21 ... Day 2 -->